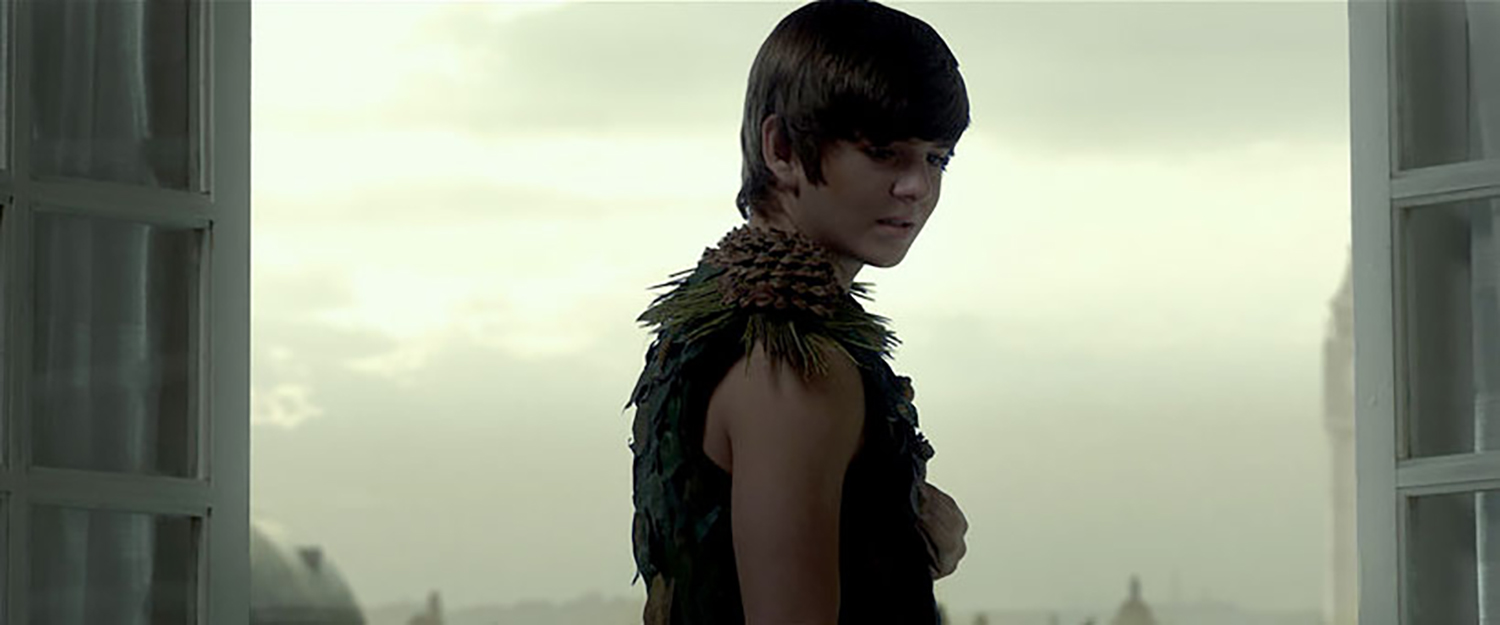 Ever since his inception over 100 years ago, the story of J. M. Barrie's most famous of creations, Peter Pan, has become a tale that transcends generations. Appearing in feature films, both live-action and animation, whilst many filmmakers have explored the playful, heroic side of Pan, not many have dared to delve into the darker side of the boy who wouldn't grow up. Written and directed by Dodge College graduate Kellen Moore, East of Kensington takes an introspective look at what happened to the Darling family after their magical trip to Neverland came to an end
Years after Peter Pan and the Lost Boys have overthrown the pirates, Peter visits London to return Wendy to Neverland and is kidnapped by a mysterious Stranger residing in the decaying remains of the Darling House. Peter is forced to confront a harsh reality that challenges his innocence.
At its core, East of Kensington investigates the harsh consequence of Peter's mistakes and uncovers the sinister secrets that survive within the desolate remains of the Darling House.
Speaking to Moore via email, I quizzed the director on the pressures of working with such a famous narrative, audience reaction and crowdfunding:
Your film is based around one of the most famous characters in fiction, did you feel any extra pressure telling the story of such a beloved character?
I would say that it wasn't so much a constant cloud hovering over the production, but it was definitely present. The moments I felt pressured the strongest was in casting Peter and working with my Production Designer and Set Decorator on the look for the Nursery and Home Underground. I just felt like those were all such iconic elements to tamper with that people would immediately tune out of the film if it wasn't right… and I still wanted to also do something different with it as well.
So casting Peter was obviously a major decision, how did the casting process go? Did you see a lot of actors before your final choice and what was it that appealed about Jack Griffo?
Casting Peter was actually one of the most intimidating factors of the pre-production process for me. I was really happy with how the script was shaping up, but it was obvious from the beginning that regardless of how Peter appeared on paper, people weren't going to buy it unless the casting was spot on. Jeremy Sumpter did such an amazing job portraying Peter in PJ Hogan's Peter Pan, I knew people already had an image in their heads of who Peter is… and that's one previous performance to reference. This character is iconic and everybody has an image in their minds who Peter Pan is. That was something I took with the utmost seriousness – especially since we were students doing the casting… it's not like I could host a national casting call.
That being said, the things that I knew were Peter Pan essentials in casting were: (1) Age, (2) an attractiveness (Peter should make teenage girls' knees buckle), (3) a natural confidence. When we put out the casting notice we received hundreds of potential Peters, and only one head shot stood out to me…and it was Jack's. I personally reached out to Jack's mom and let her know how excited we were to audition Jack. And it's funny, because Jack's mom entered Jack's name because she knew he liked the story of Peter Pan, but we were met with some immediate roadblocks when she revealed his agent didn't want him doing student work since they were focusing on pilots.
There was a courting process that went on to get Jack, not only to the first audition, but then to call backs and then onto the actual film. He was the only actor we met who I even considered. He just had every component I was looking for and outside of those essentials, Jack is an incredibly awesome kid who is so talented at what he does. He was a pleasure to just be around and he took the work so seriously…and to put him into perspective, I kept telling his mom "This kid is gonna make it…you just watch". Jack and his family moved to California from Florida to try and get his career off the ground and a couple months after EOK wrapped we got word that Jack just booked the lead in a new Nickelodeon series, The Thundermans. It's amazing to think we had such a tiny window to work with him before the rest of the world caught on. He's going to have a fantastic career ahead of him.
You added quite a dark twist to the tale of Peter Pan, how have people reacted to your new take on the boy who never grew up?
Surprisingly very well. For a long time I actually made Tinkerbell's demise somewhat ambiguous and it wasn't until we sent the script to screenwriter Caroline Thompson (we reached out to her representation to see if she would mentor the script), that she came back with a note that said we couldn't leave the ending open ended… I needed to decide Tinkerbell's fate to really send my message home. So I took her advice to heart and did.
You made East of Kensington whilst studying at Chapman University, how do you feel making this film during your education helped production?
It helped for many different reasons. One of the biggest is that it afforded me the opportunity to collaborate with my crew and meet the students that made the production a reality, but the school also provided key equipment and sound stage space to make the film what it was. I knew East of Kensington was going to be my thesis film a year before I was a senior, so I put in efforts to make my last year at Chapman all about East of Kensington. Knowing it was going to be an ambitious production, I kept my course load light so I could just focus on the film.
Producer Gary Goetzman acted as mentor on your film – what did his experience of the industry bring to your production?
Gary helped us put things into perspective. When he first read the script, he was very curious to hear our game plan as to how we were gonna pull the film off for a reasonable budget and at a student level. He kept us to a certain standard, because when we would go to Playtone to have meetings with him, he would have us sit down with his staff as well. It was rather intimidating being surrounded by so many gifted professionals, and in return it was vital that we maintained our best work ethic and that we did our homework before we brought anything before him. Just knowing he had his eyes on what we were doing was extremely comforting – we are very grateful to have had his guidance through out the process.
Some of your post was carried out by post-production house Light Iron, who have worked on some major feature films including The Social Network and The Amazing Spiderman. How did you get them on board and what did their expertise add to the film?
One of my producers, Grace Babbes, personally knew Michael Cioni (Light Iron's CEO) who offered his company's services to us, and like Gary, he also personally mentored our film. Light Iron offered an amazing education to not only myself, but many of my Key Creatives, because they created our post production workflow for us…we were instructed on how to carry out all of our footage from production to post. Michael was pivotal in helping us decide format (we were debating Alexa vs Epic). He offered several consultations at Light Iron through out the production process to ensure we were covering all of our bases. We shot on a Red Epic and getting the knowledge how to properly manage the workflow of raw 5K footage was invaluable. And having our colorist, Paul Sage, put his artistry on the film was just a surreal experience. I didn't know our footage could transform the way it did.
You managed to raise over $16k on Kickstarter, more than 6 times your original target. How did you find the Kickstarter experience and what did the funds raised mean for the production?
We initially raised $10,492 on Indiegogo (our goal was 10K). The Indiegogo fundraiser went on before we entered production and all of those funds went directly into making the film. My team and I put a lot of effort into social media before and after production of the film and have been very fortunate to gain somewhat of an online following. So many people requested a way to see the film after the Indiegogo ended, that we decided to launch a Kickstarter a year and a half later to raise funds to send the film off to festivals. We reached our $2,500 goal in less than 24 hours and never anticipated to raise the 16K+ that we did. It's been really rewarding to know that so many backers believed in our efforts and the story we wanted to tell, and expressed their support beyond the call of duty.