Setting their sights on the ills of selfie culture, FILTERFACE – Double Tap To Like from Will & Carly (last seen on DN here) questions the unhealthy importance social media validation plays in the lives of young people, prompting some to opt for plastic surgery to closer resemble their flawless filtered likenesses – a new mental health disorder doctors have labelled 'Snapchat Dysmorphia'. DN caught up with the directing duo to find out how they created this satirical dance indictment of self-obsession and projected perfection.
Could you explain how the self-obsessive nature of selfie/filter culture informed the film's choreography and design?
The choreography draws inspiration from behaviours and practices found on social media; the perpetual camera posing, body contorting and ritualistic worshipping of people simply because of how they look, especially "celebrities". The selfie stick scene was created to hammer home the ridiculousness of self-obsession in selfie culture.
The voices peppered throughout the film that culminate in the final scene are all real comments taken from Instagram posts of filtered selfies. It's worrying to see how much social media relationships encourage people towards this filtered reality. The wardrobe was heavily influenced by the range of body shapers, corsets and latex on the market designed to manipulate the female form into an idealised shape.
Ultimately Snapchat Dysmorphia is a scary phenomenon so through the performance, sound design, and cinematography we wanted the film to be uneasy to watch.
How much of a challenge was FILTERFACE to make as an independent project and how long did it take to complete?
Being a passion project it took a little longer than we planned as we had to work around everyone's schedules, from the dancers themselves through to Meg Thorne our editor and Adam Smyth our sound designer. From initial idea to finished product it ended up taking a solid 6 months. The biggest challenge actually came about 2 days before the shoot when our location roof fell in. We lost a lot of cast and crew due to having to reschedule but it was a blessing in disguise as we actually managed to get our preferred location.
Through the performance, sound design, and cinematography we wanted the film to be uneasy to watch.
The shoot itself was fairly straightforward as the dance was so well rehearsed. Gary Kent our Steadicam Op was incredible, he learnt the dance in no time and worked so fluidly with the dancers, at times, the way he brought the moves to life gave us goosebumps.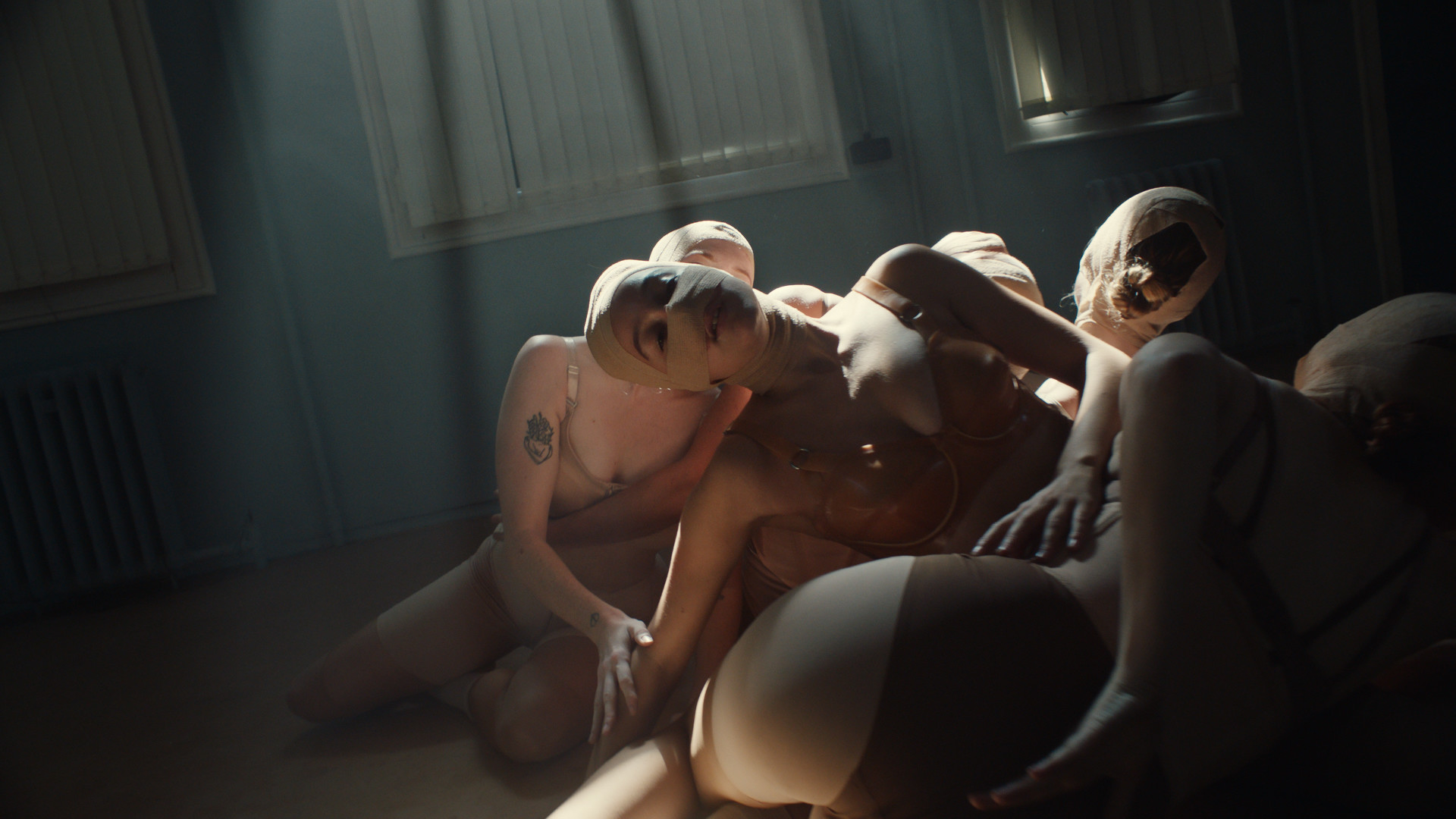 How vital is it for you as filmmakers to have a community of collaborators around you for passion projects like this? For those who don't have that support yet, how did you build yours?
Whether passion project or low budget promo I honestly don't think we would have made a single film if it wasn't for all the amazing people who've given up their time and skills to help make our vision a reality. I guess the trick is to find like-minded creatives who not only believe in making the same things you do but are just genuinely good people with good energy.
It takes time to build a network, but I think the best advice is don't be afraid to ask your peers. If you have something that really excites you, there's a good chance it will excite them.
As independent filmmakers with a need to promote your work how do you personally balance the good and bad of social media?
That's a very good question. It's about understanding social media, seeing it for what it is and then using it as a business tool rather than a social tool. As soon as social media starts affecting the way you behave or feel on a personal level, that's when social media has control of you rather than you having control of it.
Are there any new projects from you on the horizon?
We've been pitching on a few music videos and have been sent a few short film scripts that we are keen to explore. And as always, we've got our eye out for new cultural, social and environmental issues that we can tackle through creativity.