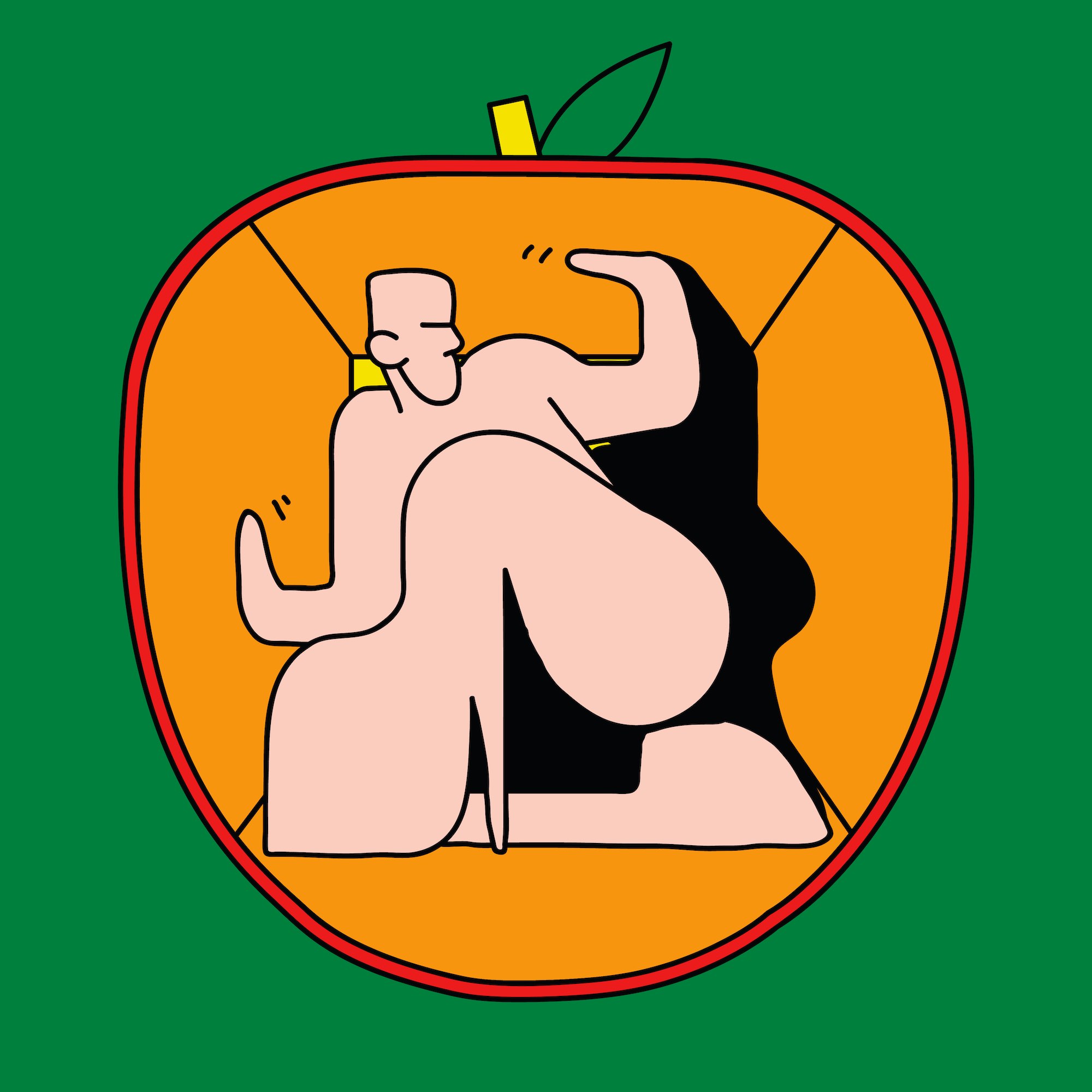 Moving to a new city can prove inspirational for any artist, but when that City is New York, the creativity this metropolis seems to encourage feels unrivalled. Filmmakers has fallen in love with the bustling streets of the city for decades and the latest to take a bite at detailing their experiences is Venezuelan artist, animator and director Igor Bastidas. Joining us to discuss his 12-month animation project The Big Apple, which saw him animating 12 apples, Bastidas explains how he avoided traditional narrative structures in his hypnotic short.
At just over 3-minutes in length, there's a surprising amount of content/themes in The Big Apple, what compelled you to make the film?
One month after moving to New York, I decided to do a monthly-animation about my experience here (for one year). The idea of using the iconic NYC apple came to my mind, so a year later I had these twelve animated apples telling my personal experience of New York, as some sort of catharsis/document not sure what it was.
I wasn't interested in telling a kind of traditional narrative structure.
Everything seems visual and relatable in New York, but I didn't want to romanticize the city, I just wanted to make it personal and pay tribute to my experience in this crazy place. Without realizing it, I was collecting a collage of moments in my brain, that I just needed to portray… And that's what I did.
At some point I decided to literally connect them into a 3-minutes film, which seems aimless, but actually the idea of a series of short stories intertwined without a screenplay really excited me. I wasn't interested in telling a kind of traditional narrative structure.
Alongside being a personal diary, The Big Apple also feels somewhat like an aesthetic experiment, almost like you're trying to create a visual language for New York. Can you talk a little about how you developed this particular style for the film and did it change at all throughout the production?
These short stories were linked to construct a different kind of narrative, a narrative with simple images and a lot of transitions to encourage people to lose themselves in the animation. In my illustrations I've a need for formal perfection that comes from my graphic design background, but I love free expression and organic movements, so I think this is the result of mixing both languages. The style of the film never changed, it was the same from start to finish and that was one of my main challenges here.
Part of the film's striking aesthetic is the aspect ratio the film is presented in, can you talk a little about your decision to frame the film in this way?
I wanted to deconstruct the way of framing a story and make it simple in terms of composition/design. It's almost like a patch on your jacket came to life.
David Kamp's audio work adds an extra layer of depth to your film, how did you get David involved and when it came to the sound design, did you give him guidelines or did he have free reign to create something fitting?
For the audio, I had in mind something friendly/ambient, with a synthesizer vibe, something open to the experimentation of mood and variation. I thought David could be perfect for it, so I contacted him last year. From the very first moment, he was into it. I know the outstanding work of David from previous films, so I limited sharing my first thoughts and gave him creative freedom.
He took the project to a whole new level.
He figured out that this film should be sound effects/transition driven, exploring fast-paced transitions in sync to the animation and short music bits for some parts. David was a big part of this film, he took the project to a whole new level. Working with him was really interesting and enlightening, I also learned a lot about the short film scene.
What can you tell us about the production of the film? How long did it take? What tools/software did you use?
I did the frame-by-frame animation in Illustrator and I used After Effects for the final comp. The production was quite irregular. I started with the apple animations in May 2017 and it took me a year to finish the initial structure – twelve apples, one per month, to tell my story about NYC.
Then came the music and it was a hard thing to figure out. I didn't have the budget for a sound designer and I didn't know much in regard to independent film funding in the US, so I started to hold the film for months. By the end of last year, I began to work with David on the music & sound and we wrapped the final version this year.
What are you working on next and where can our readers go to find out more about your work?
I'm working on a new personal project related to ambient-animation, but at the same time, I keep myself busy doing illustrations for my editorial clients, in these hard days — I'm doing some projects for The New York Times and The Guardian. I think that we need to remain as connected as ever with information and I want to keep myself on that side. At a time when the COVID-19 news can feel overwhelming, maybe these images can make a different kind of impact.
You can check my work on IG (@igorbastidas) and my website