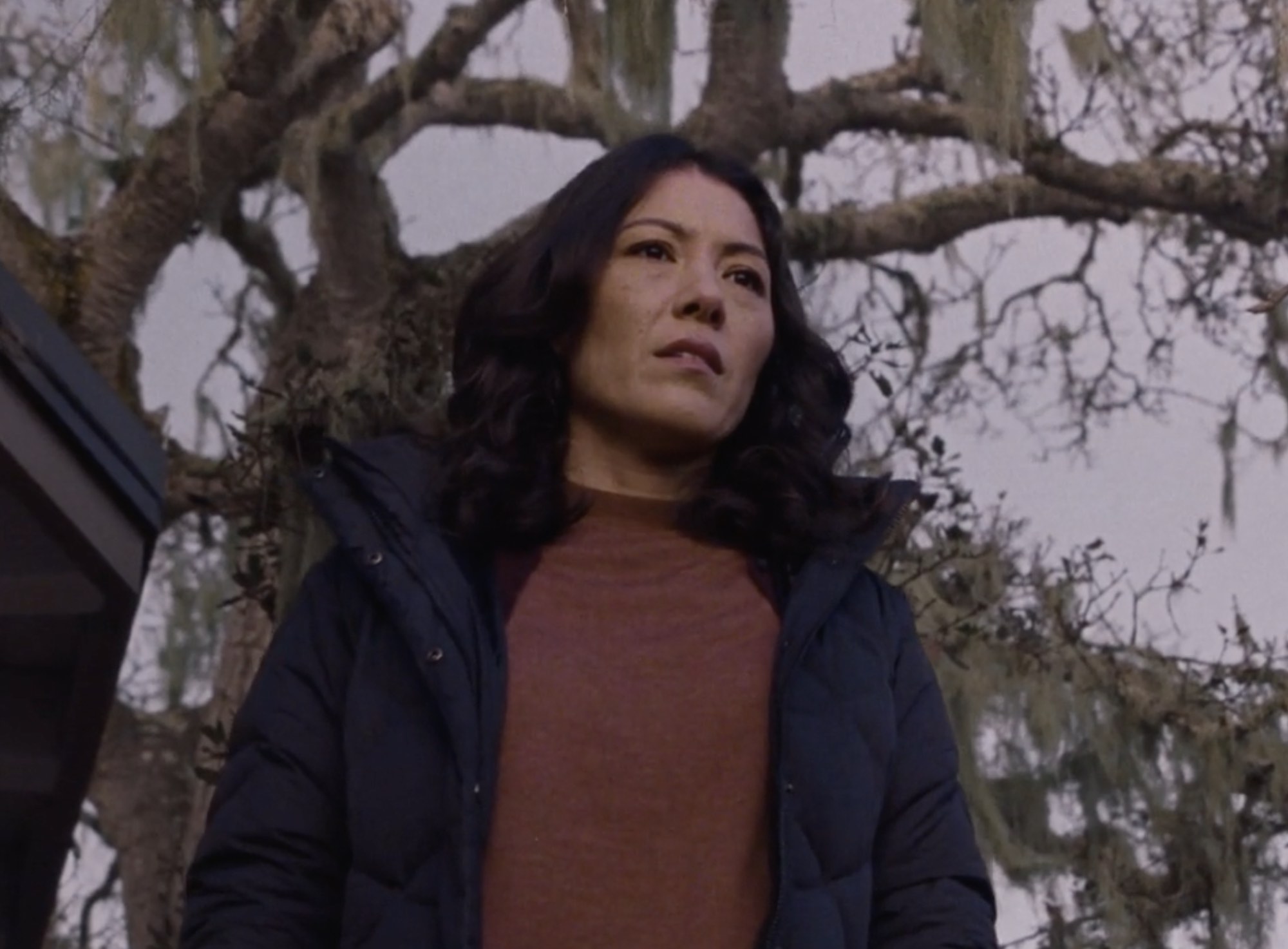 Filmmaker Alex Fofonoff's cosmic horror short takes the tension of forced socialisation to a whole new level. When a novelist, whose career seems to be imploding, takes refuge in a friend's vacation home she comes across two strangers who claim to be the house's caretakers. As conversations start and the initial confusion begins to subside, the author suspects a dark secret could be at play. There's no need to explain any further what happens plot-wise because Fofonoff's film is a classic thrill ride with twists and turns that'll keep you on your toes. From its grainy 16mm to its Under The Skin-esque score, Fofonoff embellishes his world with a profound sense of unease that permeates every frame, making his short a terrific slice of old-school genre filmmaking. DN discussed the construction of these elements with Fofonoff, the challenge of pushing his craft to a new level, and the pleasure of embracing practical effects for his film's exciting reveal.
I'm keen to know, where does an idea for a film like While Mortals Sleep comes from?
Going into this short, I was focused on making something focused. I had already made several films that people told me were great, cool, so interesting, but they didn't know how to categorize them. I felt like that was holding me back so I decided to really commit to making a horror short. It was a genre I'd always had a love and fascination for. I knew I wanted a contained small story, in one location with few characters. And I knew I wanted one element to the short that would really blow people's minds. Spending a lot of my time growing up on Cape Cod in all different seasons, I became attached to this idea of someone wanting to get away from the world by visiting an offseason vacation home, and the horror that comes with other people unexpectedly being around and the forced socialization that comes with that.
I knew I wanted one element to the short that would really blow people's minds.
As I worked on several different drafts of this idea, I knew it wasn't enough. It was missing that genre punch I really wanted. I pushed myself and realized what I wanted. An ooey gooeycosmic monster baby puppet. This unlocked so many ideas for me about how to build the atmosphere as I wrote, and leave lots of little clues (like the sludge and the bizarre performance of the 'caretakers') that would make the short seem so strange when it felt like a thriller, but after the reveal of the baby, would all come together. My biggest inspirations for the short were movies like Todd Haynes' Safe, John Carpenter's The Thing, and Jonathan Glazer's Under the Skin.
And did that desire to push yourself creatively manifest during pre-production? As in, were you looking to push what you had done before technically?
As I said, I was really pushing myself with this short, so I was definitely working with some elements I never had before (or at least not on this big a scale). Some of those things were shooting the film on super 16mm, working with a casting director, and working with puppets/puppeteers. My Cinematographer Lidia Nikonova did an incredible job making several different lookbooks for the short that she showed as we narrowed down the style. I knew I wanted long takes, slow zooms, and fixed angles, but her ideas about how to light the scenes really nailed the atmosphere I wanted. We went through Panavision for all of our camera gear.
So much of the tension is baked into the interactions between your actors. How was the process of casting them all?
When it came to casting, I wanted to try working with some industry professionals and veterans. A friend referred me to the great team of Lisa Essary and Ranjiv Perera, who were so excited to help me find what I was looking for. I had done the free casting sites for my other shorts back when I was living in NYC, but it was so awesome to see the level of talent they brought in, and the thoughtful adjustments they made as I told them my reactions to each batch that came in. I think we did about three or four sessions where I saw 20-30 actors for each role, as well as a list of known actors for each role that I could make offers to if I wanted. I ended up with the exact three I wanted, though we almost lost one of them the week before production began. It's definitely important to have a backup or two, you never know!
I imagine creating and sourcing the puppet would've been a big undertaking too, how did you find that journey?
And then the puppet! This was my favorite new journey as a filmmaker. I researched a ton of different creature shops around L.A. and while their work was impressive, I wasn't seeing the sort of thing I wanted for the short. One day, my cinematographer sent me a music video she had worked on for a Tierra Whack song that had the most insane potato puppets I had ever seen. I reached out to the studio that made them, Stupid Buddy Stoodios, and they agreed to work with me.
I had several conversations with Ben Bayouth who led the design and build of the creature about how I wanted something that looked like it lived on the ocean floor while still having a cosmic vibe. I also wanted the puppet to have a 'cute baby' factor, that someone could look at this thing and think, "Awww…". Ben provided me with three different jumping off points for the design, and I picked one. We spent two more rounds refining the idea, taking a few elements from another design, adding some human features, and figuring out aspects of the creature that would feel surprising. Once the design was finalized, Ben and his team constructed the puppet, and it ended up being the perfect mixture of grotesque terror and uncomfortably cute.
With the practical effects and specific shot compositions you needed, how did everything come together during production?
We had a day of prep/travel, three days of shooting, and then a day to breakdown/travel. The shoot is a bit of a blur for me, and the most memorable feeling I had was being so grateful for having the support of such a talented and hard-working crew. Everyone contributed ideas that made the movie better at every turn, even when I said we didn't have time or it wouldn't work. My producer and one of my best friends Matthew Reilly was such an emotional and creative rock for me. He doubled as the assistant director on set and really helped keep my vision for the short consistent as I tried my best to juggle everything. He would gently nudge me to try this or that, and that beautiful long take into the mirror was initially his idea.
I wanted something that felt looked like it lived on the ocean floor while still having a cosmic vibe.
As a director, it's important to know how to stop and think, "I might be wrong on this one." or "This person's idea might be better than mine." Our location was an old family friend's house in Monterey, and we definitely lucked into a special situation. The family friend actually owned two houses right next to each other, one of which they rented to friends of theirs so we were able to shoot in one of the houses and use the house next door for staging/meals/holding. The homeowners and renters were all so kind and welcoming, but luckier than anything else, they were excited to be a part of a movie shoot. The old family friend, Hans, was up at 5 am with us every morning, offering every cast and crew member lattes. One night, he even offered to grill salmon for the crew. The generosity on that set made it feel like such a special place.
How was it working with, and directing, a puppeteer on set?
One of my favourite experiences was working with the Puppeteer Ron Binion. He worked so well with our cinematographer and actors to make sure the puppet fit seamlessly into any shot it was in, and whenever I called action, he brought the little mass of silicone to life. He had a special slime he would apply to the puppet before each take to make sure it really popped. He would even make little weird baby noises while operating it (as long as there was no dialogue, of course).
It's a short that feels dictated by a very specific pace. Was that something that was deliberated over during the edit?
We shot the movie in January 2020. I started working with one editor but switched to a different one in March and then the pandemic hit. As I worked remotely with my main Editor Nick Wright I saw all the festivals moving online and made a decision. I was going to take my time in post with the short because I really wanted to wait until festivals were in-person again. It was definitely a luxury to take so much time in post, to take weeks between each cut we did to digest and discuss what was working and what wasn't. It was such a great experience working with Nick, and he really helped me shape the movie. He gave the short the perfect pacing, and really helped me cut the things that didn't work but I couldn't let go of for whatever reason.
When you meet an editor you really vibe with, it's like going on an amazing first date. You start to finish each other's thoughts, and as a director, it's really nice to let go a little bit and trust someone to bring your story to life. When I watched Nick's first rough cut, my heart skipped a beat; I had this feeling that he just got it. It was one of the best collaborative experiences of my life.
Another element of the film that evokes the otherworldly, eerie tone you establish is the score. Who did you work with on that and what were you looking for them to provide sonically?
The music for the short was composed by Danz CM, and she absolutely crushed it. Her biggest inspirations for the score were Brian Eno, Mica Levi's Under the Skin score, and Trent Reznor/Atticus Ross. I knew I wanted a dreary atmospheric synth score, and she delivered. It has this haunting quality at times that feels like we're drifting through endless space, with no hope of being rescued. Ever. My favorite track is the one in the bedroom when the baby is revealed. It reminds me of the score for John Carpenter's Prince of Darkness, with this unholy choir serenading the horror happening on screen.
How did you find designing the VFX sequences? I'm thinking of those opening shots of the galaxy in particular which, in retrospect, are a perfectly foreboding opening for what's about to occur.
This was also my first time working with visual effects in a meaningful way. The first shot of the film is all VFX, as well as the whole galaxy effect in the baby's eye. My cinematographer recommended a company called Hunter's House, who had done a music video she worked on. They were amazing to work with and very patient with me as I made a few mistakes here and there about what to ask for/expect, when to make changes, and even having to start an entire effect over from scratch. The work they did was beautiful and they really brought the cosmic elements of the short to life in a way that exceeded my expectations.
Can we expect anything as fascinating and beguiling as this from you in the future?
As for what I'm working on next, I am currently searching for financing for the feature version of the short, which has a complete script and a few different budget levels. The logline for the feature is: When a successful cold case novelist gets cancelled, she travels to a forgotten Cape Cod Town to start work on her new book in an attempt to resurrect her career. As she investigates a decades old missing children case, she encounters strange townsfolk and even stranger creatures that reveal a dark conspiracy bubbling beneath the surface