Set to the darkly acerbic sounds of Saint Petersburg electronic two-some Aigel, Andzej Gavriss' 1190 submerges us in an oxygen deprived fever dream of lost home and identity. Andzej tells DN how a stay in the confined quarters of a capsule hotel, a fearless lead actor and a desire to wade into the dark side of Bangkok coalesced into this journey of unconscious longing.
This story is very personal. Me and my wife Julija Fricsone-Gavriss (Producer and Art Director of the film) sold all the stuff we had, gave our apartment up for rent, put all the necessary things we need in a backpack and decided to travel, explore and live in different countries and cities. When we stopped by Moscow in Russia, we decided to stay in a capsule hotel for some crazy experience and it turned out to be the very beginning of the script for 1190.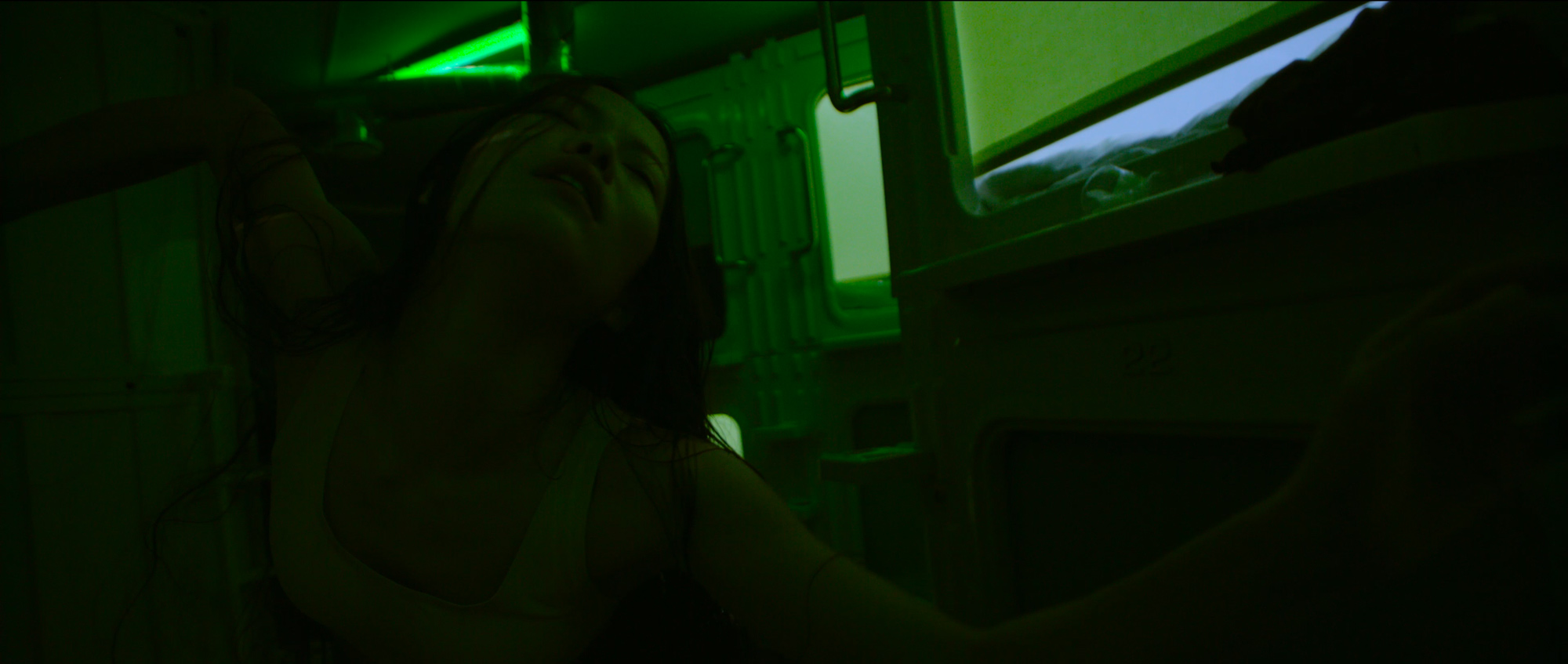 After living in a capsule hotel for a month and a half, I started to have really weird dreams. Capsules are designed with a very small fan inside and there is not enough oxygen so the dreams that you have are pretty weird. From that point I started to develop an idea around the concept about the lack of oxygen and a girl who's sleepwalking, gets out of the capsule hotel and goes to the city at night to search for her once beloved home and identity.
We were shooting mostly nights in lots of dirty corners filled with rats and cockroaches.
There was no casting at all. Friends showed me Anastasiya Tsoy's photos and I liked her appearance. Than Julija sent her the script, which Anastasia really liked. We met and I liked her energy and attitude – she seemed confident about the role and I really liked that. It was a real pleasure to work with Anastasia, she really trusted me and that inspired me a lot. Although we did lots of rehearsals and tests beforehand, shooting in Bangkok was not easy at all. We were shooting mostly nights in lots of dirty corners filled with rats and cockroaches. Even so, Anastasiya was cool with everything that I asked her to do, she gave all the energy she had.
We decided to shoot in the same capsule hotel where we were living in Moscow and the rest of the shoot took place in Bangkok and small islands in Thailand. We used some local help of drivers and a location coordinator but predominately our crew was very small. Bangkok was crazy and super fun. Once we even got into a police station because of a car accident and bought beer for the police officers so they would let us shoot in some places.
In order to experience the atmosphere of Bangkok in the right way, we settled in a small hotel which was located on the local fishermen canal. We bought local food on the streets from local Thai people. We walked around every possible boulevard of Bangkok, dens, go go bars and so on. It was very important for us to penetrate into the dark side of this city, in order to properly transfer the mood of the story.
When we left Bangkok and went to an island to shoot the nature, ocean and waterfalls, it was even more fun then in the capital of Thailand. We caught a lot of rainy days, there was so much water. We were wrapping our equipment in rain covers and ocean bags to protect the camera and lenses. Also in Thailand, there are so many jellyfish and underwater snakes, you never knew if they were going to bite you. I even got myself a jellyfish sting but luckily the shoot was over and I was able spend a few days in a bed after I went to a hospital.
As we were shooting our film on a low budget, we had to choose an inexpensive camera which was quite easy to use. I was not a huge fan of Black Magic cameras, but the Ursa Mini Pro 4.6k kind of amazed me. Great colour, well balanced body, we were even satisfied with its low light capabilities. With the Ursa Mini Pro 4.6k we used Zeiss high speed mk2 + OKS 12mm, old soviet lenses.
It was very important for us to penetrate into the dark side of this city.
I wanted to use aggressive music, full of surreal sounds. At the beginning during the choreography rehearsals we tried lots of different tracks, Aigel's music fitted just right, it perfectly highlighted the body language. I like how it delivers the emotion, you can basically feel the sound so the decision was quite easy. So we contacted the guys, they loved the story and gave us all the freedom we needed. It's always inspiring when people trust you.
We shot a shorter music video version of 1190 on a Samsung Galaxy Note 8 because Aigel had a sponsorship with the company. We gripped the phone on the top of our camera, so we didn't have to reshoot scenes. For the smartphone music video version we decided to go for the more dirty look. Basically, we didn't change the story, just made it more compressed. The editing of the short version as a music video was quite challenging, because we already had a full version – our 1190 movie – so it took some time to figure out how to shorten it down. In the end we loved the contrast between the short and full versions.
I can say that we got damn lucky that our crew members found each other. We stuck together till the end and all the heavy stuff we accomplished together as well. Huge thanks to everyone, it was amazing experience.