Motivated by a lack of "mature" animation coming out of the UK, Terri Matthews' NFTS grad film The Wrong End of the Stick was created to prove that Brits can do offensive animation, just as well as America. A real favourite from the festival scene, TWEOTS is the surprisingly sweet tale (or should that be tail?) of a man with a weird fetish for all things canine. Joining us to discuss the joys of animating "swinging ballsacks", Matthews takes us through the inspiration and perspiration behind her distinct shaggy dog story.
Thanks for joining us to talk about your film The Wrong End of the Stick Terri, it's a striking film, for many reasons! Let's begin with the story, what made you want to tell this particular tale and how did the idea first originate?
Heyyy Rob, thanks so much for featuring TWEOTS on DN! We're absolutely rover-joyed that you're a fan of the film!
Ouch, developing TWEOTS happened nearly five years ago…
I always knew that I wanted to make a film for a mature audience that misses British animated adult television series such as Monkey Dust and Stressed Eric. At the moment, the UK doesn't have ongoing successes like South Park, BoJack Horseman or Rick and Morty and the kinds of innovative and creative shows on Adult Swim. So I wanted to create a film that would be a tribute to long absent, mainstream British adult animated series and be a calling card for the kinds of things I would like to make in the future… and something that would make me laugh.
The film is more about the freedom of expression and identity in amongst the boredom and the mundanity of life.
This particular tale originated from three other short film ideas that Sam (Bank, Producer), Chris (Cornwell, Writer) and I pitched to the course leaders at NFTS. I wasn't totally convinced with dedicating a whole year (or more in this case) to one of the three ideas, so we looked at the common themes: hiding an identity; a sex scene featuring awkward eye contact, and generally making the audience squirm. There was a fourth, much more surreal idea in which a person turned into a horse and galloped away from their tiresome and lonely life, and that sort of tapped into the Furry community which I've always been secretly fascinated by. TWEOTS became a mixture of all of these things and the fandom seemed to fit perfectly. But I wanted to explore it a little bit without judgement or prejudice. The film is more about the freedom of expression and identity in amongst the boredom and the mundanity of life: something I think a lot of people can connect with.
It's a film that's likely to grab the attention because of its shocking moments, but it's equally full of tender, heartfelt moments, what was your aim when making the film?
Throughout my time at NFTS, I was exploring who I wanted to be and what I wanted to do as a filmmaker and at first, I wanted to make a film that would just really appal people. I quickly had my arm twisted that no one would ever want to watch a horrendous film unless there were redeeming moments.
It became a fine line of leading and misleading the audience.
The aim was then to make a film where audiences could really connect with the world and root for the characters while we threw a whole bunch of graphic imagery, puns and swears at them and brought a man's world crumbling down. It became a fine line of leading and misleading the audience and allowing brief moments of relief where they could laugh before being subjected to another bizarre sex scene. The tender moments helped to keep the audience engaged… and helped us get away with things like Francis the dog's red lipstick.
Even with the heartfelt moments, TWEOTS still really appals some folks, so job done! Since releasing the film online, we've massively enjoyed the comments from "wtf" and "disgusting" to really thoughtful words and interpretations on identity, expression and acceptance. For animation, even a weird little film like TWEOTS, to confuse, disturb, delight and tickle people in so many different ways is absolutely fantastic.
Visually, the film employs animated characters on live-action backgrounds, what was it about this aesthetic that appealed to you?
I've always loved this kind of aesthetic from productions like Who Framed Roger Rabbit and The Amazing World of Gumball where each have created their own completely believable and engaging mixed media worlds. And I thought it would look great if we could manage to pull something like that off.
With TWEOTS, using live-action backgrounds meant that we could create our own completely believable, mundanely familiar and accessible live-action world where audiences could more easily connect with and embrace the 2D animated characters. And with telling such a weird and darkly comic story, it was hugely important to keep audiences engaged to the very end and not completely throw them off with moments of surprise testicles and horny dogs expressing their natural urges.
I wanted to work with a technique that the NFTS had never done before.
The NFTS is very geared towards live-action, so I wanted to take the only opportunity I might ever have to direct a live-action shoot (albeit a strange one without actors for much of the time). I knew that I wanted to work closely with a production designer and cinematographer, so shooting live-action backgrounds was also a chance to really use their skills and have them be involved in the production as much as possible.
Plus I've never enjoyed drawing backgrounds and I wanted to work with a technique that the NFTS had never done before, so 2D animated characters on full scale, live-action backgrounds seemed like a great idea!
I'm assuming you got to direct the live-action, before animating over it, how was that experience? Feels like there are a few interesting scenes to shoot live?
Directing the live-action shoot and then having an animation production to get through felt a bit like making two films in one. We had to plan the shoot meticulously because there was so much to get through in a very short amount of time and none of us had really done this kind of thing before.
We'd managed to create an economical animatic that reused camera set ups and mapped out how many different spaces the live-action set needed to accommodate. Owen (Robertson, Production Designer) had the task of designing a full scale modular set where we could move the walls to not only create different rooms (for example, the dining room and office were set in one area) but create two different locations (Malcolm and Beverly's house, and the Furry party flat). We had two weeks to shoot everything taking place in the house, shift the set, repaint and redress it, and shoot the Furry party before the set was dismantled. It was pretty intense as there was no chance of any pick ups!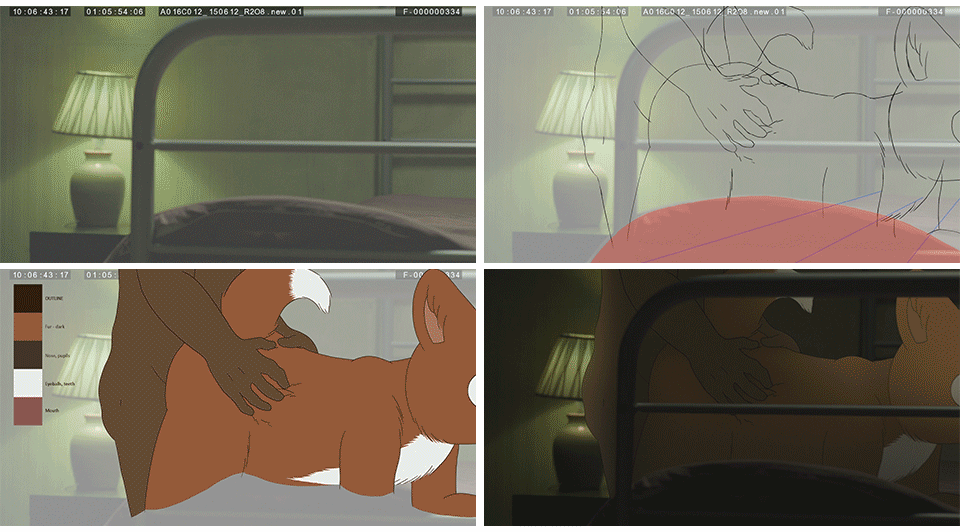 There were definitely some pretty awkward scenes to shoot and the Furry sex scene probably took the biscuit.
Krzysztof (Trojnar, Cinematographer) created an atmosphere akin to the films of Roy Andersson and hyperreal photographs of Gregory Crewdson, and every shot was treated almost like a painting. Puff (Pisanwalerd, VFX Supervisor) took charge of working out how best to fake the animated characters' interactions with real life objects, including dressing Hedley (Roach, Stand-in) and me in lycra blue suits to act out the breakfast scene and spraying compressed air at the dog bowl full of water when Malcolm begins to explore his urges. This was hugely important as it dictated what elements we needed to shoot, how we would go about animating the characters and how the VFX team would composite each shot to bring the live-action and animated worlds seamlessly together.
There were definitely some pretty awkward scenes to shoot and the Furry sex scene probably took the biscuit. In the wide shot, where Malcolm removes his mask, I hid under the bed and pushed the mattress up and down while Owen laid down out of shot and heaved the bed about by its leg. We didn't have the budget to have a stand-in actor every day, so we ended up doing a lot of the acting ourselves. I had to stand in for the cat character (everyone else refused!), so that was pretty embarrassing.
How long did the film take to make? What was the hardest part of the production?
Let's see… We started developing ideas in December 2014. The story and animatic took four or five months, with a month of set building happening in April 2015. We shot on set for two weeks with an additional few days filming at a school, house and in the woods later in the year. The animation took about a year, and VFX work and compositing ran alongside as and when shots were completed. All in all, we finished the film in June 2016.
There were definitely a few stand-out difficult patches during production. Finding the perfect voice actors was quite tricky and took months. By then, a decent chunk of the film had been animated and it got to the point where we were putting off animating the shots that had dialogue in them. And because we had gotten so far with crafting the characters, the voices had to match Malcolm and Beverly's already animated and down-to-earth mannerisms to a tee otherwise we would risk the audience being totally thrown by exaggerated voices that didn't fit into the understated, accessible world we had created. We contacted a few British household comedy names but they turned us down (not sure why!)… However, that was a blessing in disguise because we eventually found Nick Ball and Mandy Dassa. I had an inkling that Mandy would share our weird sense of humour as her acting reel was similarly wacky. And Nick wrote a comedy pilot where he was being somewhat beaten up in one of the sketches. The moment we heard his nervous tones, we knew he was the one.
I think the chance to animate some swinging ballsacks and shagging animals must have been pretty attractive.
One of the hardest parts of the production was probably just the scope of what we had taken on. We planned everything in great detail and started shooting the live-action as early as we possibly could, but we were still working full-time for about three months after we had graduated. At that point, I was animating in my pyjamas. Making TWEOTS was an incredibly difficult grind, working 14-16 hour days, seven days per week for about a year. We didn't have the budget to hire animators for the full duration or pay anything near their usual day rates, but we managed to rope in a few brilliant ones for some key sequences. I think the chance to animate some swinging ballsacks and shagging animals must have been pretty attractive… It's not every day you get to animate that sort of thing if your day job is working on a kid's show. Giving away those humdingers did mean that my (long suffering) partner and I handled the more arduous and pedestrian shots as well as most of the keying, inbetweening, cleanup, checking and corrections, colouring and shadows on top of running the remote animation team.
The toughest part by far was maintaining working relationships and friendships that became fraught due to the pressure of getting everything done and to a standard of a professional production on a student budget. The crew were fantastic and there's definitely a fine balancing act in trying not to ask too much of people. It was extremely difficult because I was asking too much of myself to the detriment of my physical and mental health. Not only did the previous year's graduation films set a seriously high bar on production values and festival award wins (I had lent a hand on a few of them), I was almost 30 and felt that this was my last chance to break into the animation industry after many years of trying, so it was an incredible amount of pressure.
The film got to play some great festivals, did you get to go to any and if so, how was the reaction to the film?
Money was really tight when we finally finished the film three or so months after graduating, but I made sure to scrape some pennies together for a trip to Annecy. We were massively stoked that TWEOTS was selected. The weather was so bad during the festival that folks spent a lot of time drinking in the pubs and bars, so when TWEOTS played quite late on a Friday evening, the audience was pretty rowdy (and probably quite happy to be somewhere warm and dry).
Everyone then howled and barked as the end credits rolled… It was an extremely weird but amazing experience.
It was the first time watching the finished film on the big screen and the audience was really open and engaged (or maybe a bit drunk). It was a lot of fun hearing the horror of a huge cinema room full of people, "uh oh" in anticipation of what Malcolm might do to poor Francis the dog and squeals when Bev catches him under the table. Even shouts of "lapin!" (as is Annecy tradition) when Harlequin T. Fluffball was introduced and "awww" when Bev placed the dog bowl on the table. It was brilliant (and a relief) to hear the reactions I'd hoped for! Everyone then howled and barked as the end credits rolled… It was an extremely weird but amazing experience!
You made TWEOTS as your final film at the NFTS, what have you been working on since you left the school?
In all honesty, I felt incredibly tapped out after TWEOTS, creatively as well as physically, so I wasn't really thinking about other things I'd like to make for a long while.
I had a hefty bank loan to pay off that covered the MA fees (and still do) and a festival run to fund, so I needed to find paid work as soon as possible. I worked a few short jobs as a 2D Animator but then took a course in storyboarding at Blue Zoo. I was down to my last £20 when they hired me as a story artist on one of their children's TV shows.
It's been very difficult to get to this point in my career.
A few more 2D animation jobs in between and I'm now working as a story artist at Aardman on some seriously fun and iconic TV series. It's been very difficult to get to this point in my career (I'm well into my 30s by now) but I'm very excited to work with and learn from some extremely talented and inspirational story artists and directors and rekindle that fire in me.
Any upcoming projects we should keep an eye out for?
Hmm… I've been developing an idea for a dark adult animated series with my partner over the last couple of years, slowly piecing a story together and creating characters based on people we've met, places we've lived, conversations we've overheard, news articles and forum threads we've read. It's going to be very dark, very odd and very British. Releasing TWEOTS online has been weirdly wonderful and has shown us that there is an audience for this kind of adult animation that maybe wasn't so present in many of the festival juries. And the fact that there hasn't been much in the way of a successful UK animated adult series in over a decade gives us hope that there is a gap there waiting to be filled.
You'd watch something like that, right Rob?