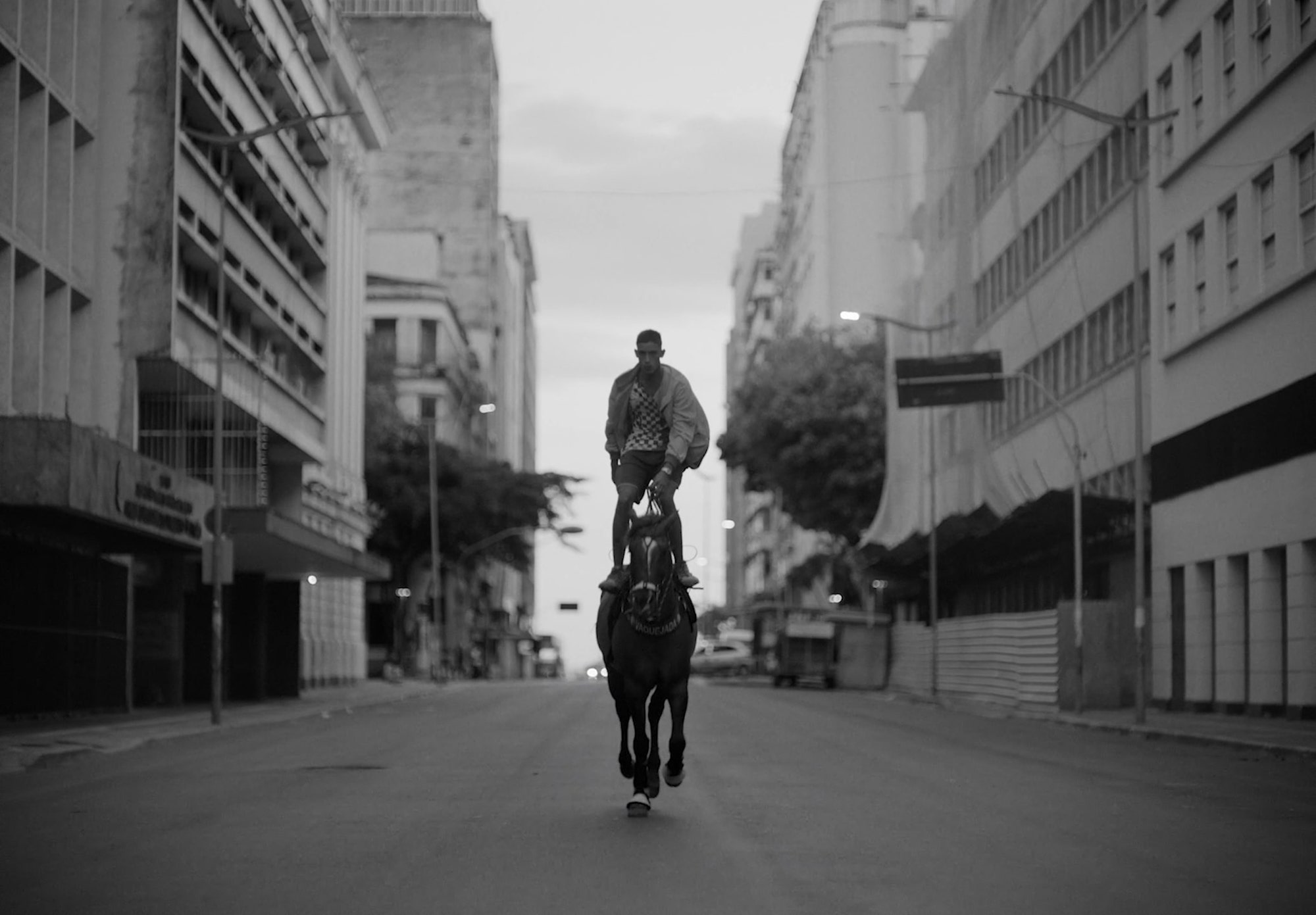 Few advertisements look quite as striking, innovative or bold as Your Future, created for emergent Brazilian neobank Nubank. A playful and amusing, non-didactic promotion for financial planning, it posits the future as a "curious thing." Although it doesn't exist yet, it is the reason why we floss, work out and eat broccoli. Director Fernando Nogari shoots in the scenic city of Salvador, Bahia — boasting a combination of Portuguese colonial buildings and a thriving Afro-Brazilian culture – finding just the right shot each time in order to complement the bank's central message. The result is an endearing and humorous exploration of contemporary culture that strikes the right balance between a strong artistic vision and an overarching brand message. We sat down with Nogari to discuss finding creative ways to explore the future, the decision behind using black-and-white cinematography and shooting in the truly magical location of Salvador of Bahia.
Tell me about how you got the commission to work with Nubank?
They're a Brazilian bank, although they're currently expanding to Latin America. This was their first ad for television. I was commissioned by Wieden & Kennedy to work on this spot. I had worked with the creative team before and they thought this project was a good fit.
What was the brief like? Did they give you much creative freedom?
They gave me a lot of freedom. The main goal was to create something that felt genuine and authentic to Latin America. Portraying situations that were relatable and honest. I went to Salvador of Bahia ten days before we filmed it and did extensive research finding locations and cast. We were driving around, meeting people, exchanging experiences. Most of the actors are street-cast. We were creating on-the-go, immersing ourselves in their daily life situations. A lot of things we shot were things we found by coincidence or chance. Like the boy riding the horse in the end. We saw him trying that manoeuvre while scouting and I thought: "That takes a lot of courage, and this film should be filled with passion and courage".
I loved the narration, exploring the reasons why we look towards and prepare for the future. What was the challenge of finding the right images to match the text? I liked the creative use of "why we floss" for example!
We didn't want this to be a standard manifesto. We thought about how could we illustrate our text in a way that didn't feel obvious, so less pictorial and more 'cause and consequence'. I also felt it required a little sense of humor, like the idea of the couple kissing on "why we floss"! We Brazilians tend to approach life in a very light and joyful way, so I thought we should incorporate that.
The main goal was to create something that felt genuine and authentic to Latin America.
Did you have any other ideas of short vignettes that didn't make it?
We had tons. We were brainstorming them all the time while scouting. The whale scene, for example, appeared during the shoot, and we produced it in two days. We wanted to make something about deforestation in Brazil as well. It's undergoing its worst chapter. If we don't preserve it we can't even brag about the concept of 'future'.
The black & white cinematography feels particularly pronounced. What was the aesthetic choice behind shooting in monochrome?
We wanted something that felt historical. Also black & white photography works with fewer semiotic codes. It kind of strips down a few layers of signals. The idea was to portray situations that you could identify for what they represent. Being raw, emotional and real.
I'd love to know more about the use of the song Canto de Ossanha by Baden Powel and Vinicius de Moraes. How did you rework it and want to use it in the piece?
The song is one of the most famous by songwriters Baden Powell and Vinicius de Moraes. Ossanha is a spiritual entity, one of the Orixás worshipped in African and Afro-Brazilian religions such as Candomblé and Umbanda. I think its chords are very mysterious and deep. For me, this song is in opposition to mediocrity and fear — something very Brazilian — a combative ethic that's sensible at the same time. Satelite did a gorgeous instrumental version recorded only on cello. It felt like the perfect match.
You use a lot of different shots to create the piece, which is essentially one long montage. What was the location scouting like?
Scouting was very intense. We were driving for days around Salvador and its outskirts, looking for locations that could incorporate Brazilian diversity. City. Beaches. Desert. Countryside. During the scout we were meeting people, hearing their stories. Brazil is so big and diverse and we wanted to embrace that. There's a tendency to always portray either Rio or São Paulo and we wanted to break free from those stereotypes.
Black & white photography works with fewer semiotic codes.
Additionally, I love how in the lighting and composition, it feels so continuous despite having so many different parts. How did you think about the mise-en-scéne and the editing to give it this feel?
I think it feels continuous because we had a few rules that we followed on every shot. We shot everything on an Alexa LF using a 35mm lens and the movement would either be a slow push in or push out. I wanted it to have a documentary photography feel, very raw and real. Every scene should have only one or two takes with similar durations.
Was the washed up whale on the beach real or was some CGI needed here?
We came up with the idea for this shot when we were already shooting. Martha Kiss, my right hand, said she knew a float from a carnival parade in Salvador that had a big whale as a prop. Carol Ozzi, our production designer, found the owner and we bought it from him. We painted it black and that was it. We had a little CGI for the tail but that was it.
There's a tendency to always portray either Rio or São Paulo and we wanted to break free from those stereotypes.
Salvador of Bahia looks like a truly gorgeous place, almost lost in time. What was it like shooting there?
Salvador is truly a magical place. It was the first capital of Brazil and it's the centre of Brazilian soul and rhythm. Shooting there was a privilege. We had the most amazing team supporting and leading us. I can't wait to go back.
What are you working on next?
I'm currently working on my first feature film. It's an adaptation of a book set in Brazil's Sertão. We're still working on the script but we're planning to shoot it next year.