Often when we dig into the backstory of how a particular film came into being and what drove the director to go through the blood, sweat and tears which pave the road from script to screen, we discover burning desires, tales of long nurtured seedling ideas or noble causes to be championed. However, if we're all honest, sometimes filmmakers just want to make something damn cool and have a bunch of fun whilst they're at it. Enter award-winning directors Alex Topaller and Dan Shapiro of production outfit Aggressive, who decided to take a break from their client-based work to weave an enigmatic tale of a tabloid photographer whose guilt sees him flee to the solitude of backcountry, where he encounters the therianthrope reincarnation of the woman who plagues his conscience. Aggressive take DN behind the scenes of their haunting lupine adventure.
What follows is a brief summary of why, wasting money and nerves, we decided to fly to Argentina and drag several dozen extremely dedicated and talented people out into the backcountry. Our film doesn't have any noble causes or anecdotes at its core, we didn't have to battle any elements or beat any odds. Frankly, we just wanted to have fun and create something that we liked; or at the very least dip our feet into the cold waters of a longer format. She Wolf was born out of our necessity to push ourselves outside the music video and commercial formats, which me and Dan (commercially known as Aggressive) have comfortably inhabited so far. "You're almost 31" my father said one day, "It's time to start shooting something meaningful", (pretty much ridiculing in one sentence all of my work to this day) and so juggling an ever-increasing load of commercial work and adult life, we took an old music video concept and expanded into the short you see today.
Since visually the story plays out in the wilderness, combining remote woods, all-terrain automobiles and wolves, we wanted to shoot somewhere different, somewhere that wouldn't feel like another short film made in the desert outside of LA, and so the idea of going to Argentina was born. We decided to fly down to South America and shoot the film down there, hoping for a more intriguing, unorthodox look. This allowed us not only to play with the overall vibe of She Wolf, but also craft a piece that lived some place else – foreign locations, landscapes, actors… an adventure. It was a great idea, with one serious plot-hole, which we definitely caught a little late in the game – there were absolutely no wolves in Argentina. None. A problem for a film called She Wolf. So after inspecting a few local huskies, foxes, and one scared poodle, we realized that all the actual wolves will need to be shot some place else – and so a 2nd Unit had to be created, bringing us much closer to home, to a wonderful New Jersey based wolf-dog preserve called "The Howling Woods Farm". Here, we shot all of our wolf sequences, painstakingly matching camera angles and backgrounds to our original Argentina shoot.
This slideshow requires JavaScript.
At the end, we shot a total of 4 days in the wilderness of Argentina's Sierra De La Ventana, 1 day in Buenos Aires, and 1 more day here, in New Jersey. Most of the film was shot on Arri Alexa, while the New Jersey wolf bits were shot on RED Epic. The Howling Woods Farm shoot was bare bones – we had one Joker, and a buggy generator rented from Home Depot. Interestingly enough, shooting wolves in pouring rain with the bare minimum yielded the nicest shots of the film. Once the shooting wrapped, the real work began, we went back to juggling work, life and She Wolf; gradually climbing one stair after another in the tedious ladder of post: edit (done on Avid and Adobe Premiere), music (partially borrowed and partially composed by dedicated and talented friends), sound design, visual effects (Adobe After Effects and 3D Studio Max), color grade (DaVinci Resolve), some more sound design, re-do of the entire edit, title design, a bit more music… and so forth and so on. What was supposed to be a short trip overseas and a quick post-production breeze, became stretched and complicated once life and non-stop commercial work came into the picture. All in all, we worked on She Wolf on and off for 15 months (!!), which is a scary figure, considering that we turn around commercials and music videos in a matter of weeks.
And then, suddenly… just like that, we were done.
The world is full of strange, bitter sweet moments. On the exact week we decided to release our short, Sierra the "She Wolf", alpha female, featured throughout and in the closing shots of the film, passed away (hopefully not because she watched the film, god forbid.) But in all seriousness, something about that really hit home for us – I will always remember standing alone in pitch darkness under the pouring rain, surrounded by the zipping, colossal shadows of these magnificent animals.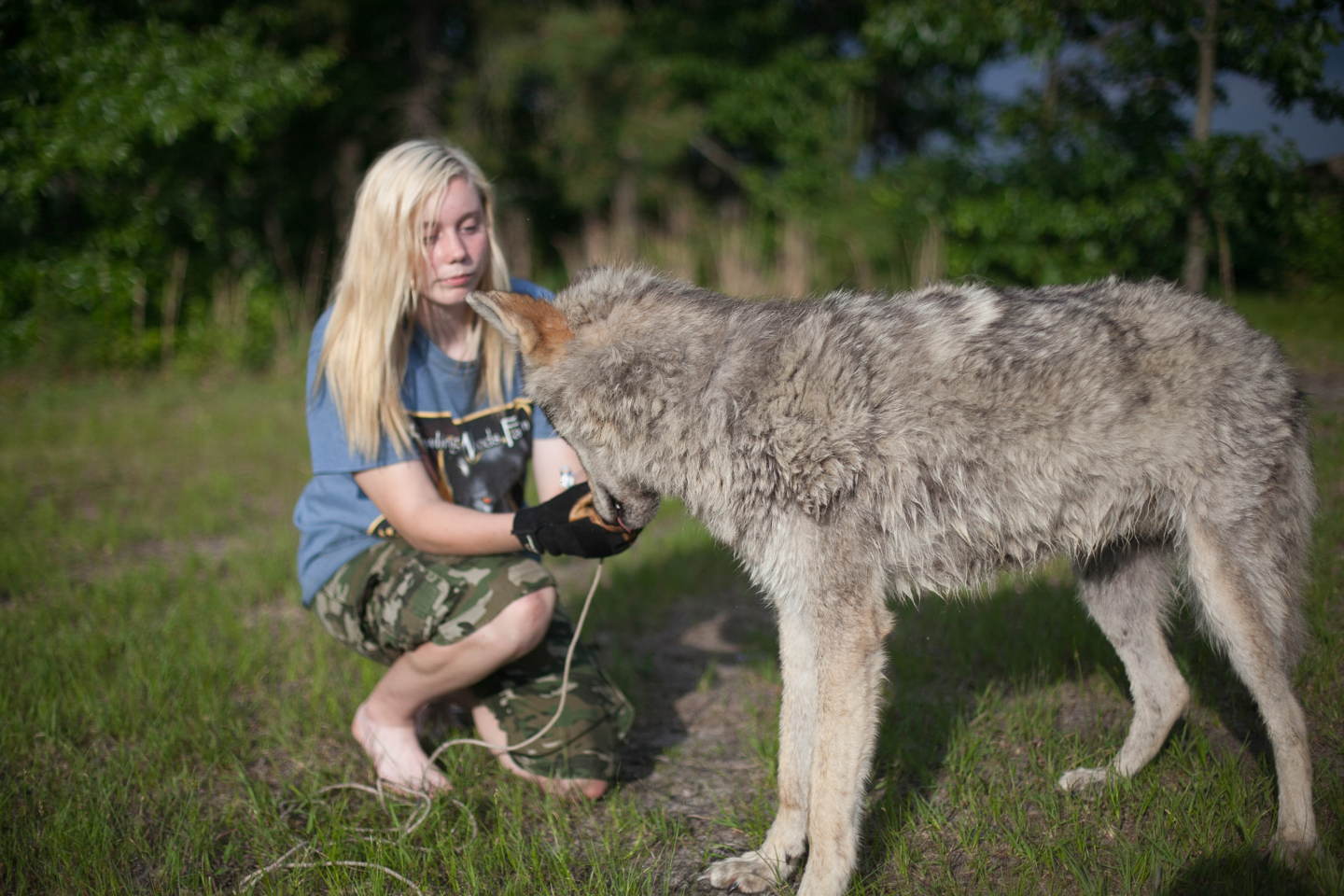 Overall, we are very happy to see it finished, but this was never meant to be anything more than an adventure and a learning experience, and frankly, we have learned way more than I have ever expected. We learned that it's more about where you are, and how mobile you can be and in-sync with the environment, than how many toys you have in your truck. Somehow coming from commercials and music videos, we never had to make something with nothing, so putting ourselves through this gauntlet proved to be priceless, and has shaped the course of our future work for the better.
– Alex & Dan
With all production techniques under one roof, Aggressive focuses on story before seamlessly blending live action, design and 3D animation for commercials, music videos and film. Headed by the Grammy award-winning directors Alex Topaller and Dan Shapiro, the company produces spots and music videos for some of the world's biggest brands and artists such as Ford, Toyota, Bloomberg, Motorola, Michael Jackson, Pharrell, Stone Temple Pilots, Megadeth among many others.