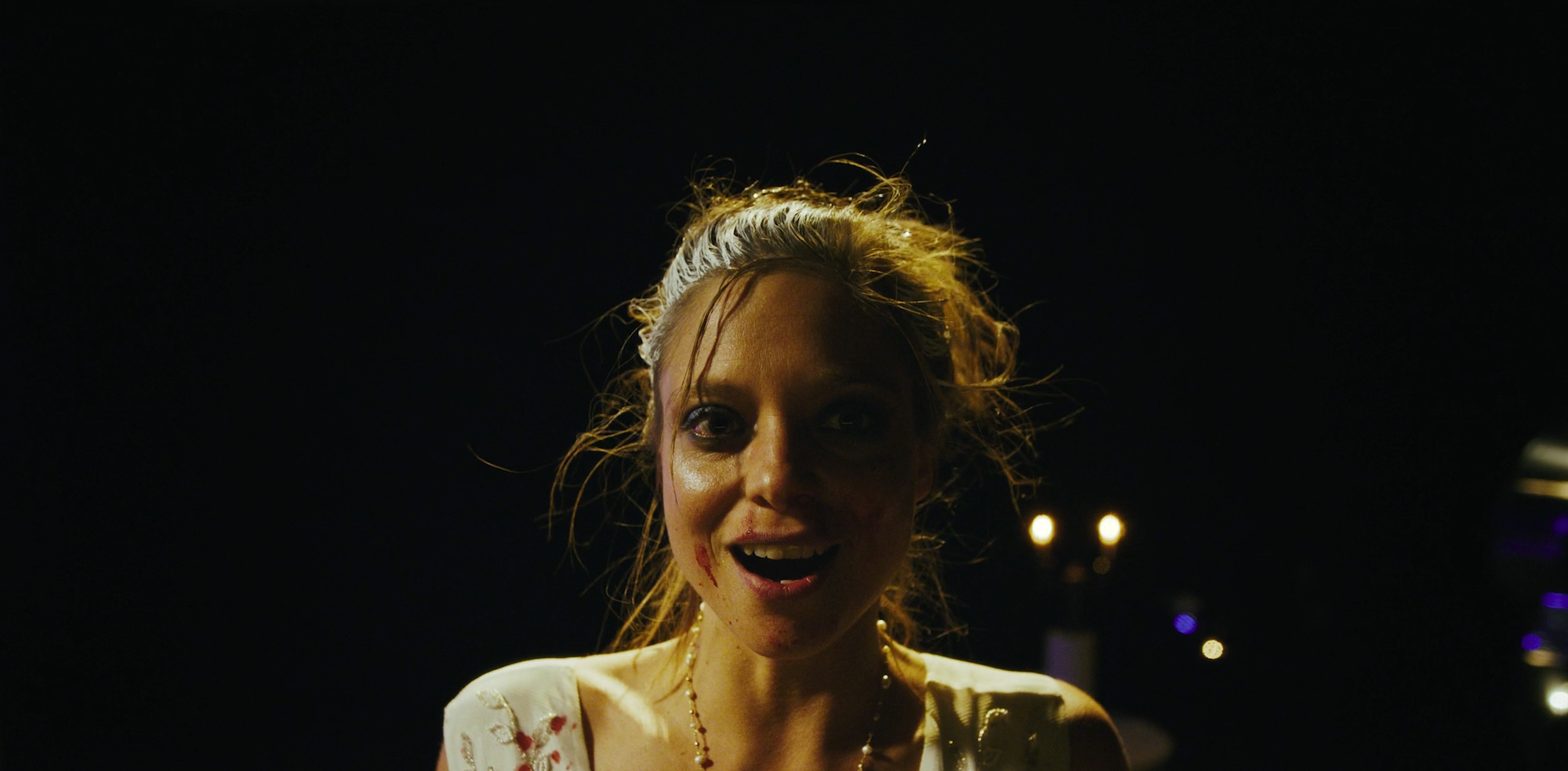 Shakespeare's A Midsummer Night's Dream might not immediately strike you as the setting for a bloodbath but what if you were to watch a version that instead of meeting your preconceived expectations left you staring insanity in the face, immersing you so deeply into the drama you could no longer tell what was real and what was scripted? Horror genre obsessed Director Kelsey Bollig has created the perfect setting for the madness of the red mist to take full rein in her pitch dark short The Fourth Wall, which follows an ageing actress flailing in her decaying career whilst having to deal with the complexities of the world of theatre in Paris and the self-serving players on and off stage. Making its online premiere here today after a storming festival run, Bollig talks to DN about casting American Horror Story's Lizzie Brocheré and the decision to use just six stunning takes to complete her bloody oeuvre which asks the audience "does the fourth wall even exist"?
Please tell us about the development of the initial idea for the film and your decision to name it The Fourth Wall?
After the French premiere of another short of mine Asking for a Friend, my EP Victoria Lacoste and I were approached by a producer who offered us the opportunity to collaborate and shoot a horror film set in Paris. Obviously, I jumped on this chance to film something abroad and immediately got started on a script. I wanted to write something vicious, seeped in satire, fueled by anger and inside jokes while poking fun of my experience as a director. Given that Paris is famous for its theatrical community, I set the script behind the scenes of a performance of A Midsummer Night's Dream and wrote it from the perspective of an on-the-outs actress.
The script definitely shifted when four days before I was initially set to fly to Paris for our first location scout, I was run over by a car and ended up in recovery for 4 months before I was able to fly. I rewrote The Fourth Wall on hydromorphone which, for those who don't know, is a pain killer that apparently gives a high equivalent to heroin. So there was definitely an influence on the script when I was in that mental state. I don't recommend writing on painkillers, but I can't deny it helped this film find the absurdities that make it what it is.
I wanted to write something vicious, seeped in satire, fuelled by anger and inside jokes while poking fun of my experience as a director.
The Fourth Wall title was born from the idea that this film is also a criticism of entertainment as a whole. As a society, we are now finding entertainment in trauma and are pushing the boundaries of what entertainment actually is. The ending of this film questions where the separation between actors and the audience lies. Does the fourth wall even exist?
How did you use the classic aforementioned Shakespeare A Midsummer Night's Dream as a narrative device for this film?
A Midsummer Night's Dream is Shakespeare's only tragedy under the guise of a comedy and The Fourth Wall was written as its inverse. The script was designed to run the same beats and reach its climax at the same time as A Midsummer Night's Dream. It was a lot of fun playing in this space as a writer while paying homage to one of my favourite plays.
Lizzie Brocheré is so perfect in this role, how did you end up working together and did her background in the horror genre help you in your direction?
I actually wrote Chloé's character with Lizzie in mind after watching her performance in American Horror Story: Asylum. She has this delicate, dark power that I'm naturally drawn to as a director and can relate to in many ways. I think her background in horror definitely helped when it came to my giving direction but she also grasped the feminine anger as well as the humour that's present throughout the story. She really got it.
I was lucky enough to have access to Lizzie through my EP Victoria who connected with Lizzie in an acting class in Boulder. Which really illustrates what a small world it is, as Victoria and I both went to school there. Lizzie and Victoria discovered that they ran in similar circles in France, which Victoria and I took as complete fate.
I can't imagine anyone else playing Chloé. Lizzie embodied every complexity that the character had and was able to seamlessly transition through them in such a short amount of time. This film was also Lizzie's first project after having her first child so she shot the film as a new mom, feeding her child in between takes. She's a total powerhouse – I'd love to work with her again.
The film is captured in six sweeping and fabulous takes, how was this achieved and with what equipment? What inspired you to make the film in such a way?
The film was entirely shot on a Steadicam with the Alexa LF. We had 5 days of rehearsal with our actors and our camera so we were able to map out and master what each shot would look and feel like before our actual shoot days, which was so helpful. I love the kinetic energy that comes from having continuous shots. It's the closest one can get to a theatrical performance outside of an actual stage.
I love the kinetic energy that comes from having continuous shots.
The stakes are incredibly high for each individual shot. There's so much room to make a mistake that, watching these shots play out as well as they did, I was truly in awe of my team. Together within a film set inside a theatre, we were able to capture the elements that make theatre so special. That's why I pushed to shoot it that way. I wanted our audience to live in the action and in the high stakes moments. There's nothing like watching 12 people in an 8 ft by 6 ft room, manoeuvring around one another, while practically doing acrobats, in order to seamlessly land 5 minute-long, emotionally charged takes. That's what film making is all about.
I find it fascinating that you were able to produce such an incredible film in a language you are not well versed in. Did the language barriers affect the filming and production?
The team on this film was so awesome that the language barrier was never really an issue. All our heads of department spoke English on some level so communicating with them was relatively straight forward. I wrote the script in English, had it translated with the help of my cast, and had it memorized by the time we started filming. I also had incredible support from those around me on set, who gave me a nod if something was pronounced incorrectly or was tonally off.
The most difficult thing for me was actually working with French hours. There's obviously less time to shoot and there's extreme importance put on not running yourself into the ground when you work. In the US, the culture around filmmaking is very much a 'nose to the grindstone' mentality. It was quite a shift for me to work at a different pace than I'm used to and was an incredible exercise for me as a director.
As you were working in France, could you talk us through the production process and how long it all took with you straddling the Atlantic?
We were actually in the festival circuit with another film when we began pre-production on The Fourth Wall so I had to fly back and forth between festivals and Paris the month before filming, which amounted to 3 trips back and forth across the Atlantic. I was fortunate enough to time things out where I was able to physically be in Paris for the majority of pre-production and had an incredible EP who acted as a location scout when I wasn't able to be there. In total, I spent a month in Paris, which gave me enough time to meet all my HODs, pick and become comfortable with our final shooting location, and become familiar with the newest version of the script and my actors. A lot of time was spent drinking wine in a hotel lobby, which I now believe should be how every film should do pre-pro.
Within a film set inside a theatre we were able to capture the elements that make theatre so special.
How has The Fourth Wall's festival journey been for you since we last spoke? Have you been able to gauge the reactions to the film as it's travelled the circuit?
Yes! The Fourth Wall made it to 18 more festivals since we last spoke, that makes 33 in total which we are super proud of. The reactions to the film have been overwhelmingly positive. We've won 11 awards and were able to briefly stream on Shudder with the Etheria Film Festival. The film also landed me my representation at CAA and Grandview. I think Victoria and I are just happy to share the film finally with the public after a 2-year festival run.
What's next in line and are you sticking to horror for the time being?
I'm set to film my first feature Q1 of next year and a second feature Q3! I love the horror genre at the moment but I do know I will explore different genres as my career evolves.