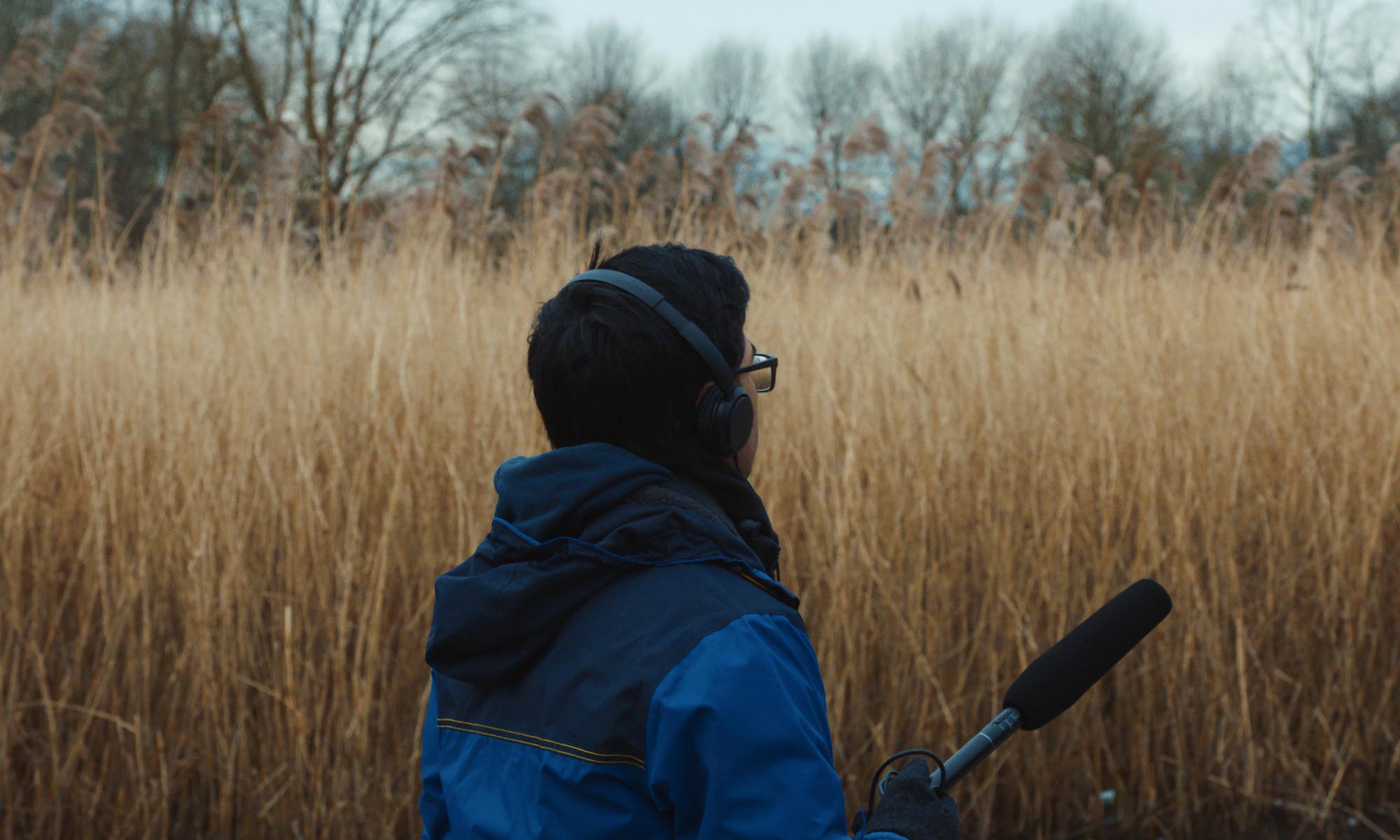 The subjects of Skyward, the latest film from Jessica Bishopp (who last joined us with her swingers hiding in plain sight Random Acts doc PAMPAS) are Mya and Arjun, two young bird enthusiasts who are looking to spread their love of nature and its rewards into their local communities. Bishopp captures Mya and Arjun in their natural habitat, be it on early morning spotting sessions or delivering presentations to local school children, with a tactile, sensorial approach. Her camera is intimate yet completely non-invasive and the sound design is impeccable at immersing the audience in the sonic palette of the nature Mya and Arjun are championing. If you're not able to catch Skyward on the big screen, this is definitely a headphones-on situation. DN caught up with Bishopp as Skyward plays London Film Festival 2022 for a fascinating and thorough conversation about the year-long research she conducted with Mya and Arjun, the process of developing her enveloping cinematic style, and the conversation around nature she hopes to provoke.
How did you discover Arjun and Mya and what drew you to make a doc about them?
I spent over a year getting to know Mya and Arjun; online through zoom calls and in person on socially distanced birdwatching trips together. We originally met through the birdwatching community on Twitter. I grew up in the countryside, Mya and Arjun have not but feel such a strong pull and connection to nature. They stand up for what they believe in against all odds; forcing them to stand out among the crowd, when as a teenager you are generally struggling/hoping to fit in. This film will always be special to me. The opportunity to spend so much time with Mya and Arjun and to experience nature as they experience it.
I hope whilst watching the film the audience will feel the magic we felt whilst filming immersed in nature throughout the seasons. In addition to this, I believe we need to find new ways of telling stories about wildlife, the environment and our relationship with it. At least three British birds will be extinct within a couple of years in Britain, and several other British birds have had their numbers halved in the last 35 years due to climate change. We have to think of community in the wider sense, including our relationship with animals and nature.
To what extent is the finished film a realisation of what was set out in the treatment or was it more a process of discovery and adaption as things progressed?
The film turned out to be a little different from the treatment; I originally intended the film to be shot entirely over one winter, to focus on one season and the small changes within it, especially the migratory birds. However, after various pandemic-related delays, we ended up shooting in every season, maintaining the natural seasonal progression as much as possible through the film edit, from winter to summer. We had around eight shoot days (masterminded by Producer Laura Shacham) over the period from February through to September. I turned shooting a short film over this length of time to my advantage in that I could spend even more time discussing what we could film, why and how together with Mya and Arjun, getting to know them more through the process. Sadly this time period is not a luxury many documentary filmmakers have, and I think because of the nature of documentary, having as much time as possible with your contributors is not only precious but necessary.
I hope whilst watching the film the audience will feel the magic we felt whilst filming immersed in nature throughout the seasons.
It is an observational documentary, however prior to filming each day/scene we would discuss what we were going to film together. After I had got to know Mya and Arjun through various calls and walks, I would then make suggestions to them about what might be good to film and then they would make suggestions of events and situations coming up in their lives that would relate to that moment or feeling I was hoping to capture. This film was very much a tentative creative collaboration with contributors and crew. I also learnt a lot about the special collaboration between a producer and director through Laura Shacham who is incredibly intuitive and creative.
Skyward is labelled as a 'Creative Documentary', what does that term mean to you?
The film is intended to have many layers, including the subjective perspective of Mya and Arjun, shown through the barn owl and buzzard, who allow us to enter their inner worlds. When developing the film I was influenced by two books that explore a unique perspective and connection to wildlife and nature: Diary of a Young Naturalist written by Dara McAnulty and The Peregrine by J.A. Baker (which is surrounded by controversy and myth). I intended the film as a stylised dream-like and magical quest, exploring the tactility and sound of nature. The film attempts to incorporate and merge cinema verité with magical realism to explore the human relationship to the environment. With sparse dialogue, rich sound design and immersive music, the film places the audience in the position of birdwatcher and asks us to observe with meditation and patience.
A lot of this is built by the profound and intuitive edit created by editors Jamie Kataky and Vera Simmonds, both of whom I learnt a lot from through the process of editing this. As we had a lot of footage, the story could have been told in many subtly different ways; simply changing one line of dialogue or removing a shot can change the context and interpretation of the whole film, it was a delicate process. However it was incredible when we first showed the film to Mya and Arjun, ahead of the film's world premiere at Aspen Shortsfest 2022, and I asked them if they saw themselves reflected in the film and they agreed they did. "Like the lives of so many air and water creatures, it seems a better one than ours. We have no element. Nothing sustains us when we fall" – J.A. Baker, The Peregrine.
What was your approach to shooting? One of the aspects that struck me about Skyward was how it feels so intimate, your subjects aren't disturbed by the camera.
It potentially has a lot to do with the amount of time we spent with both Mya and Arjun before, with no camera, and during filming, and the discussions we had with them about what and how we were going to shoot. We spent a lot of time communicating. Also, the talented cinematographer of Skyward, Anna MacDonald, and I have worked together before and have a creative relationship. Anna and I have lots of conversations before shooting and share a lot of visual references back and forth, which then means when we are on the shoot there is trust and pre-existing visual language and creative vision. This enables me to spend time chatting with Mya or Arjun whilst Anna sets up the shot, which I hope meant Mya and Arjun then focus less on the tech and more on what they are doing be it bird ringing or a zoom presentation. We also operate as a very small crew of cinematographer, sound recordist, producer and director, which probably helps, even if our equipment is quite large.
Speaking of that equipment, the film looks lovely and cinematic too, were there any specific pieces of kit that helped you achieve that wide look?
You would have to interview our wonderful Cinematographer Anna MacDonald to discuss the finer details of the cinematography and our Colourist Vlad Barin. We were very lucky to be able to shoot the majority of the film on an Alexa, and the visceral drone shots were using an FPV drone. Anna and I discussed how the film is about observing and the act of bird watching, which involves a lot of patience and waiting, looking and honing in on small details, which is where the idea for using a zoom lens came from and we used a Canon 17-120mm.
I intended the film as a stylised dream-like and magical quest, exploring the tactility and sound of nature.
It is great to have access to amazing technology, but the use of it needs to be motivated by an idea first which relates to the core essence of the film. At the time we were shooting the film, the FPV drone was mainly used at high speed and for going through buildings because it is small, fast and light. I was excited by its vision/perspective, as unlike a lot of drones, it can look forward as if it is flying, evoking an embodied experience for the viewer. The FPV drone is also very light and through many tests and experiments with our fantastic drone pilot Mike Foyle we were able to evoke the organic movement and feeling of a bird in flight; banking and swooping. I did not want to use the drone in a traditional expositional way – it is not about showing or explaining a location which removes the audience from the situation and invites a feeling of distance – we are using the drone in a subjective way to bring the audience in closer.
We were incredibly lucky to be funded first through the BFI Doc Society and their Made of Truth scheme, and then The Guardian Documentaries became involved to support the film, and also Leica. The cinematography was also important in building the inner and outer worlds of Mya and Arjun, and a sense of magical realism. The scenes with the barn owl and buzzard are deliberately otherworldly. The birds were intended as transportative emotional spirit animals, portals in and out of their inner worlds. Reflecting Mya and Arjun, and emphasising our connectedness to the natural world. Anna used a lot of in-camera techniques to create the ethereal aesthetic of the bird shots, primarily using different types of prisms in front of the lens. There was a line Arjun said, which we decided to show rather than tell, about how we are all wildlife. This connectedness to the natural world and the concept of Mya and Arjun's inner and outer worlds is something we continued to develop within the music and sound design.
Part of the meditative atmosphere of the doc is the sound design and music, what was it like collaborating with Jamie Perera on that part of the production?
We started with conversations and I had already heard of Jamie's work and listened to everything I could find on his website. We then started a Spotify playlist, or musical palette, to share music we felt related to the film. Unconventionally, I like to start working with composers during the editing stage, which is highly dependent on their time and the budget. I love it when composers start developing musical sketches and send really short extracts of essences they have been developing and then we can test them in the edit, which is how Jamie and I collaborated together. I wrote an 'emotional timeline' of what Mya and Arjun might be feeling in each scene and what we wanted the audience to feel and Jamie would create musical sketches influenced by the timeline. Finally, we spent a few days together in his studio and it was amazing to witness him working. It was the first time I had ever been physically in the room with a composer observing them working and bouncing ideas off each other, he was very generous with his time and talent.
The tactile and immersive sound design was inspired by ASMR and is integral to the film and the world-building. Through sound design we wanted to create the juxtaposition of Mya and Arjun's inner and outer worlds, to communicate a certain subjectivity. The sound design for interior spaces had to feel entirely different to the exterior places which needed to come alive; the air humming with birds. This is a direct quote from the music and sound design brief I initially wrote for Jamie, "like we have special powers and can hear insects move and hear birds rustle their feathers silently from a distance".
We wanted the audience to feel like they were there with Mya and Arjun in the space, observing and bird watching; we were trying to build a sense of presence and of interminable nature.
Authenticity and attention to detail were important for the sound design as we wanted specific types of birds. For example, we couldn't just have the sound of "geese", they had to be Brent geese, so there was a lot of research into finding the right bird sounds as well as then making them feel as if they were within the right environment. Together Jamie and I trawled through the rushes to find the original bird sounds from the environment we shot in, we also collaborated with Arjun who gets a credit as a bird sound recordist on the film as we included a lot of his original bird recordings. In Arjun's scenes outside we focused on isolating specific bird calls rather than a cacophony, to highlight how he himself experiences nature and manages to pick out individual bird sounds from the environment around him.
All the birds whose song we featured in the film also get credited at the end. We wanted the audience to feel like they were there with Mya and Arjun in the space, observing and bird watching; we were trying to build a sense of presence and of interminable nature. The list of featured birds and birdsong is as follows: Barn Owl, Brent Geese, Bullfinch, Buzzard, Cetti's Warbler, Chaffinch, Curlew, Grey Heron, House Sparrow, Jay, Lesser Whitethroat, Oystercatcher, Redshank, Skylark, Swift, Teal, Turtle Dove, Water Rail, Whitethroat, Wigeon, Wren. The film was also dedicated to the swift that joined the UK Red List of endangered birds during the making of the film.
Skyward is different in many ways, both in form and content, to your previous short PAMPAS, which we spoke to you about in 2019, but I'm curious to know if there was anything you learned on that film that you brought to this short?
Through making PAMPAS I gained confidence as a director and collaboration skills which I have brought to Skyward. Filmmaking is not a lone venture; I developed relationships with creative collaborators; primarily Anna MacDonald who shot both PAMPAS and Skyward.
Can you tell us anything about what you'll be working on next?
I am in late production/early post production with a documentary film funded by IF/Then, Field of Vision and Rooftop Films. It is about a remote island off the coast of Iceland, where young people take it upon themselves to counteract the damaging human impact on nature, exchanging night-time parties for nocturnal puffin patrol, in a coming-of-age story of joy and jeopardy for young adults and pufflings alike. The film is produced by Gannesh Rajah, Alice Hughes and Ada Benjamínsdóttir, with cinematography by Anna MacDonald. Working this time with editors Manuela Lupini and Xanna Ward Dixon.