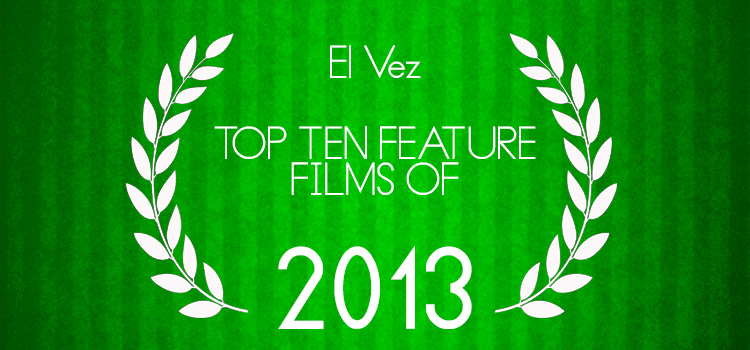 Spending a lot more time watching short films this year, once again 2013 has seen my feature film viewing decrease somewhat from previous years – making this annual compilation process considerably easier this year. With a 'to watch' list significantly longer than my shortlist of favourite feature films, it was more a case of working out an order than whittling down too many choices. Enough rambling, below are my ten favourite features of 2013, I'm sure there are some glaring omissions (La Grande Bellezza, Gravity, The Act of Killing, etc.), but these are the ones I watched and the ones I loved:
10. THE GRANDMASTER | Wong Kar Wai
If this was a list of prettiest kung-fu movies of 2013 (or even all-time) then there's no doubt that Wong Kar Wai's epic tale of martial-arts master Ip Man would be sitting proud on the top spot. Visually, The Grandmasters is hands-down the most stunning film on this list – from the slow-motion rain to the dance-like choreography of the fight scenes. As a fan of cinema it's hard not to watch this feature and purr with contentment. Whilst fans of the more traditional action-packed kung-fu movie may find The Grandmaster's approach a little too slow for their liking, fans of Wong Kar Wai's work will love his take on the genre.
9. FRANCES HA | Noah Baumbach
"Kooky" and "off-kilter" are regularly used adjectives to describe the work of director Noah Baumbach, however the filmmaker has definitely ramped up the charm in this feature co-written with partner and star Greta Gerwig. Following the titular Frances as she flits around New York, floating from home to home trying to make a living from her love of dance, Baumbach's exuberant feature leaves you smiling from ear-to-ear. Whilst the decision to shoot in black and white is a little baffling, the choice to cast Gerwig in the role she helped write is inspired, with the actor's pitch-perfect turn proving once again that she is one of the most interesting performers working in feature films today.
8. WRONG | Quentin Dupieux
If you were expecting Dupieux's tale of a man searching for his lost dog to be anything other than abstract and weird, then you obviously have never seen the director's surreal work before. Making his mark on the world of feature films back in 2010 with his truly unique tale of a killer tyre – Rubber, the concept of Dupieux's follow-up movie initially sounds like a much more conventional tale. Yet as this simple premise evolves and we're introduced to a strange pet detective, a mysterious guru and the employees of an office where it rains inside, we're taken on an increasingly bizarre journey into the magical mind of this maverick filmmaker.
7. SIMON KILLER | Antonio Campos
Back in 2011, Borderline films production Martha Marcy May Marlene pretty much dominated the end of year lists here at DN. Following up Sean Durkin's tense cult thriller, comes the New York based production company's latest feature Simon Killer, this time directed by Antonio Campos (Afterschool). Revolving around a tense and uncomfortable narrative that follows heartbroken college graduate Simon to Paris, we witness Campos' crushed protagonist as he attempts to get over his failed relationship with a series of bad decisions. Similar to my number 5 pick A Teacher, Simon Killer transports its viewers into the mind of its misguided "hero", making you feel almost like you're experiencing every single foolish choice he makes and every awkward position he puts himself into.
6. LEVIATHAN | Lucien Castaing-Taylor & Verena Paravel
Admittedly, a 90-minute experimental documentary on the fishing industry may not be everyone's cup of tea, for me this weirdly captivating film was a breath of a fresh (salty) air, as Leviathan disowned traditional approaches to truly immerse its audience into the unforgiving world of sea fishing. Dialogue-free and filmed using a collection of cameras attached to the ship and its crew, Castaing-Taylor & Paravel's feature takes us on a wind-swept tour above, under and all-around a New England fishing vessel at work.
5. A TEACHER | Hannah Fidell
Whilst some films are judged on laughs, scares or thrills, Hannah Fidell's unsettling story of a teacher and her inappropriate relationship with a student, has to be ranked on its cringe-worthy moments and its ability to make its audience shout at its lead character as she embarks on a series of bad decisions. Firmly placing the viewer inside the headspace of its protagonist, watching the life of teacher Diana unravel before your eyes is one of the most uncomfortable, heartbreaking things you're likely to have seen in 2013.
4. THE BATTERY | Jeremy Gardner
Easily winning the award for my most-watched feature of 2013, Gardner's subtle zombie flick gets its spot in my top 10 for a number of reasons. Winning me over with its opening scene, The Battery goes onto impress with a foot-stompingly good soundtrack, has one of the best dance scenes you'll see all year and finally let me use the phrase 'zombie wank' in an article. The film's finale is not only an exercise of 'making the most of what you've got', it's also one of the tensest scenes you're likely to see in cinema in any year. Having accidentally stumbled across Gardner's low budget horror/road movie, it's fast become one of our most discussed films here at DN Towers. Now altogether…"THEY CAN TAKE OUR BONES!!"
3. THE KINGS OF SUMMER | Jordan Vogt-Roberts
The 'coming-of-age' narrative may have gone through a golden-age in cinema during the 80s, but in recent times it has felt a little like a sub-genre in decline. So when I saw the latest feature film to tackle the subject of impending adulthood described as embodying the spirit of Stand by Me, with claims of they don't make 'em like this any more, the pessimist in me was already preparing to be disappointed. The feel good hit of the summer, Vogt-Roberts' (known on DN for his short Successful Alcoholics) first foray into feature film is one of the most truly enjoyable cinematic experiences of the year. The pessimist in me is happy to admit…they REALLY don't make 'em like this anymore.
2. OXYANA | Sean Dunne
Having followed director Sean Dunne's short film career on DN for over 3 years, we've become huge fans of the small slices of Americana he's presented in his bite-size documentaries. Branching out into the feature length arena, Oxyana not only sees Dunne tackle a longer duration for the first time, but also sink his teeth into a much darker subject than his previous five shorts. An intriguing insight into a community that embodies everything that's gone wrong with the American dream, Dunne's raw and powerful documentary is an emotion-fuelled journey around a town broken by an Oxycontin epidemic.
1. UPSTREAM COLOR | Shane Carruth
Some films entertain, some shock and some thrill. Upstream Color overwhelms. Unique in concept, tone and story, Carruth's follow-up to 2004 low-budget science fiction feature Primer is an audio-visual mind-fuck of a film, that tackles themes of identity, humanity and biology. Often bewildering, always immersive and intimate, Upstream Color once again proves why Carruth is so highly regarded in the world of independent film – lets just hope we don't have to wait so long before his next film.