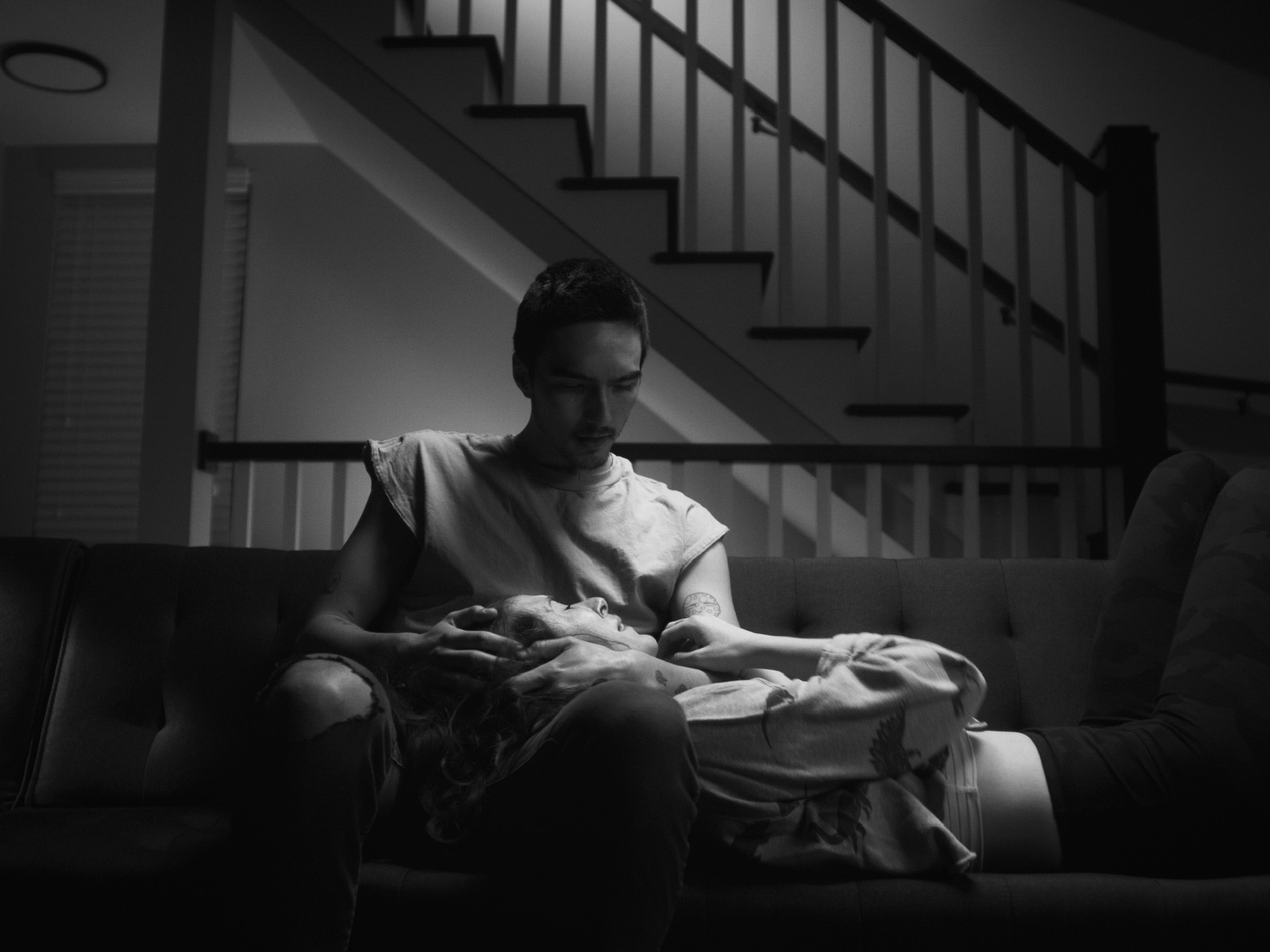 If you tried to guess the trajectory of the young couple's idyllic new relationship in Jim Vendiola's wildly inappropriate yet incredibly close to the heart romantic short Pretty Pickle you wouldn't even come close. The award-winning Filipino-American filmmaker probes the perils of succumbing to our own insecurities as he takes us beyond that hot and heavy honeymoon period where the rose-tinted glasses start to slip and reveals what happens when we question our partner's seemingly innocent quirks. Vendiola deftly builds up the tension in his beautifully shot black and white genre blending short before leaving you slack jawed in its final moments. After an impressive festival run Pretty Pickle makes its online premiere on DN today, alongside an extensive interview with Vendiola where we discuss using black and white cinematography to marry the film's disparate tones, how he worked on ensuring the digital interfaces didn't disconnect audiences from the overall story and being called a "sick fuck" on more than one occasion.
Pretty Pickle is as funny as it is dark – I'm almost scared to ask what the origins of the film were.
Several times in my life, as an American-born writer-director of Filipino descent, my mom has made me the de facto videographer for the open-casket funerals of aunts and uncles who have passed away in the United States. The footage is shipped to extended family back in the Philippines, unable to attend. It's a functional, but still very strange and morbid thing to have to participate in, even if I am right for the job. This unusual engagement with the lifeless vessels of former family members was the initial kernel for what would become Pretty Pickle's shocking reveal. Regardless, the film is purely intended as an amusing and chilling work of fiction; it is in no way autobiographical.
When I initially started outlining Pretty Pickle, I was pondering the horrors and humor of modern dating, our emphasis on electronic devices, how those factor into relationships (beyond, say, dating apps), and how at times our devices breed the potential for certain Othellian spirals, misunderstandings, and just overall weirdness.
Without giving anything away, how did the story evolve from a classic meet-cute to the horrifying denouement you leave us reeling from?
Horror and comedy often pair well because rhythmically they follow a similar setup/payoff trajectory and both elicit strong, instantaneous emotional reactions. But most horror-comedies tend to be hyperbolic and absurdist in nature. Pretty Pickle's horrifying denouement was the first thing that came to mind when I started writing it, and the specific way it played out in my head wasn't anything I had seen elsewhere. While the ending is definitely shocking and absurd, I didn't want to use the more common horror-comedy formula of big 'funny ha ha' jokes to signal that something wildly fucked up and upsetting would eventually happen. Instead, I wanted a more relatable, character-driven narrative prior to our ending.
The onscreen depictions of sex and use of sexual language are still meant to be humorously uncomfortable, but they're also meant to feel grounded in reality. The same with the simultaneous deterioration of the meet-cute, due to suspicion and poor communication. Ultimately the parts all fit together, but until we flip that big switch at the end, the viewer really doesn't anticipate that the film's first ten minutes and its final two minutes could exist in the same world.
Why did you choose a black and white palette along with a 4:3 aspect ratio to tell this story?
Since the film juggles seemingly disparate moments of eroticism, relationship humor, mystery, and horror, I needed a way to marry them all tonally. I was pondering deadpan, black & white indie comedies like Baumbach's Frances Ha, the work of Jarmusch, specifically Coffee and Cigarettes and realized that inadvertently, those films share some visual aesthetics to horror classics like Night of the Living Dead, Psycho and Carnival of Souls. Namely that all of these movies are shot in grainy black & white, despite their respective plots being wildly divergent.
Until we flip that big switch at the end, the viewer really doesn't anticipate that the film's first ten minutes and its final two minutes could exist in the same world.
Our cinematographer, Chris Rejano, suggested we shoot in 4:3 since it's an older aspect ratio, and it also felt like a good way to make the shifts between RED footage, 16mm clips, and still images feel more cohesive. Also, we felt like the pillarboxing this would create on modern screens, the vertical black bars on the left and right sides of a 4:3 frame, might suggest the protagonist's blindness to the larger situation, or that choosing a boxier frame to tell such a modern story would subtly add to the mystery of what might be occurring outside of that frame.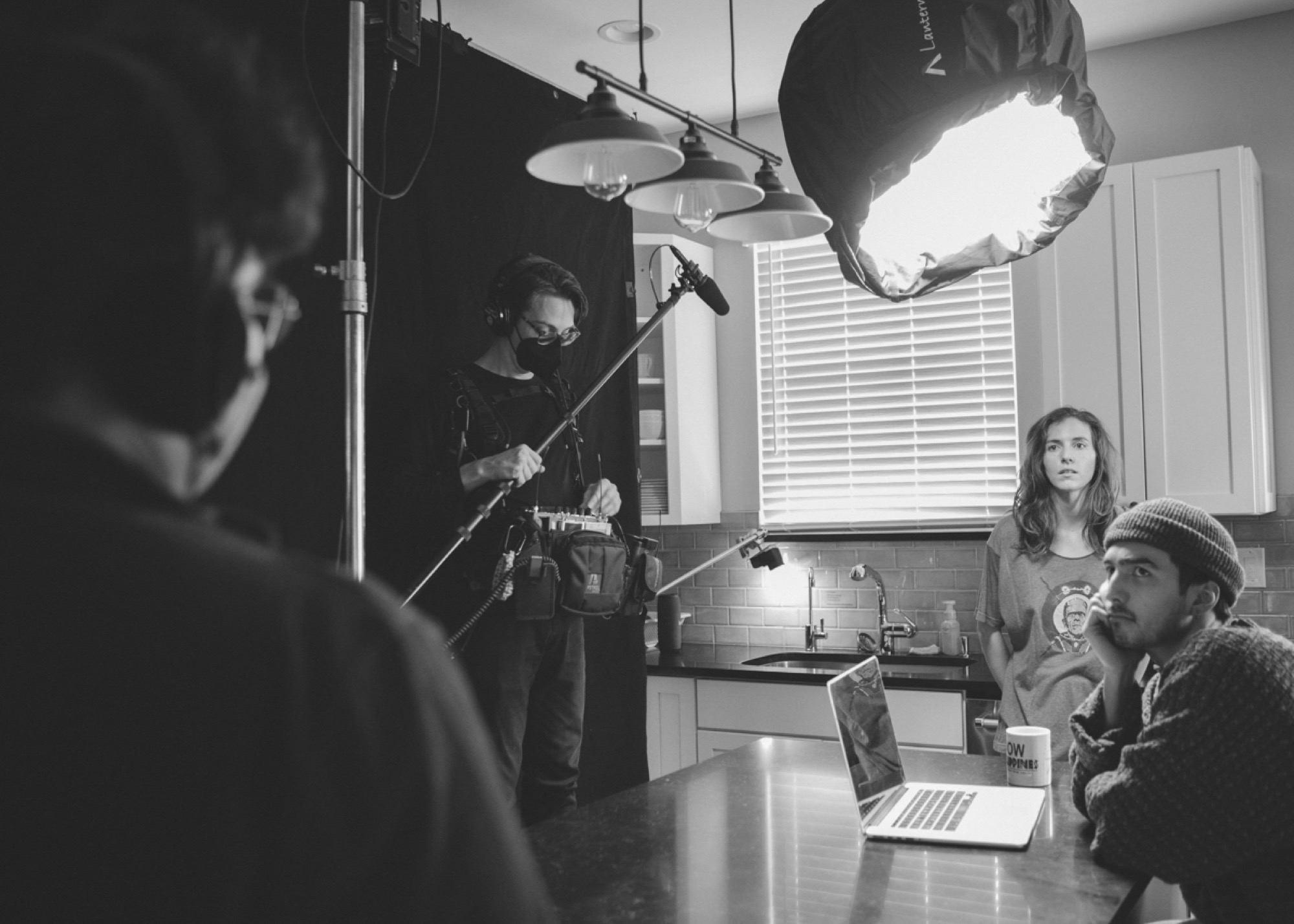 Music plays such a huge part in all films and Pretty Pickle is no exception with your classic horror fuelled jumpy soundtrack but you also have the gentle twittering of birds and everyday life added to the mix.
It was a bit of a balancing act. The morning tweeting of birds, crickets at night, digital device notifications, sexual groaning and heavy breathing, a monster movie on TV, popcorn popping, a new wave tune playing over lively bar chatter, a foreboding score woven throughout, and a lonely country song to end it all! Our sound editor/re-recording mixer, Joshua Lopatin, has a music producing background so in a way I think he approaches all these elements as one large composition. And our composer, Aaron Green, similarly understood that there was already a strong audio tapestry (including two pre-recorded songs) and that his score needed to heighten key moments and punctuate others without being overly intrusive. He exercised some wise restraint, at least until our ending. And while I love music, I don't come from a musical background and struggle to communicate certain concepts. But I did use some of the score from Altman's 3 Women as temp tracks and told Aaron that I was really into the Yellowjackets season one score. He agreed with the latter and mentioned how he was also inspired by the score in season one of White Lotus. I feel like both influences are apparent.
Also, shout out to the folks who lent us their pre-recorded tracks. Barabra is a Chicago-based band whose song The Furnace plays during the bar scene. And the end credits song is written and performed by Kal Madsen, a young singer-songwriter and fiction writer, who's also the son of actor Michael Madsen. I was a fan of both even prior to the film and approached them when I had a rough cut to show.
The sex scenes are pivotal to the plot, how was it working with an intimacy coordinator and what do you think that role brought to those scenes?
It was definitely a gamble to design a short film so reliant upon sex scenes; they're over a quarter of our narrative. But I was dedicated to using these moments to develop the main characters and move the plot forward, contrary to the typical criticisms about on screen intimacy's ability to do either thing. I also wanted the scenes to be visually interesting, non-gratuitous, and humorous at times while still feeling genuine as if the viewer was an unwitting fly on the wall. For the audience to be so starkly aware of the couple's sexual dynamic makes the ending that much more unsettling.
Both Whitney Masters who plays Samantha and Brennan Urbi, as Samuel, were relatively new to film acting, and I hadn't previously worked with either of them. So even prior to our IC, Meghan Corvino, coming aboard I prioritized conversation around these scenes early in the casting process. Both performers also knew right away that we would be working with an IC, to the degree that ample trust hadn't been fully established with me, or if the inherent power dynamic that occurs on set might already be influencing those early discussions.
I was dedicated to using these moments to develop the main characters and move the plot forward, contrary to the typical criticisms about on screen intimacy's ability to do either thing.
Meghan was indispensable in creating a physically and emotionally safe set for the cast and crew. Prior to principal photography, she met with each performer separately, and then together, then with me. Then the four of us did a closed rehearsal of all the sex scenes in the script. Pre-production leading up to this point took place amidst the surge of a new Covid variant, so it was exclusively Zoom chats and emails until we all met for the first time that rehearsal day. In spite of that, Meghan made us feel as though we'd worked together for years. It was collaborative, fun, and very laid back yet intentional. I know a lot of folks still have doubts about the necessity of ICs, under some (often patriarchal) misconception that they're a level of bureaucracy or a hindrance to the immediacy of moments that should just play out between two or more performers who simply 'trust one another'. But similar to not wanting to sacrifice the safety of your production by forgoing a professional stunt coordinator, it doesn't make much sense to potentially compromise the emotional and physical safety of your talent engaging in such vulnerable moments not only with each other but in front of a crew capturing it all for posterity.
With your emphasis on devices and our battle with our own modern day dependencies on them, you've impressively managed to capture those elements of interaction and interface realistically without any of the fake or generic setups we so often see.
As a viewer I tend to easily tire of overly slick renderings of digital interfaces in shows, movies, and documentaries. At its worst it can end up feeling like an advertisement, other times it just feels disconnected from the larger tone of the piece and distracting in that regard. Just because someone can render these really elaborate visuals doesn't necessarily mean it will add equivalent value. And in general, we're all so tethered to our devices IRL that seeing those interfaces in entertainment media can start to feel sort of intrusive and fatiguing. But there are exceptions. I think the first Unfriended film, for example, is pretty incredible!
From a practical perspective, it was also an experiment to see if the graphics would play well monochromatically.
With Pretty Pickle, I wanted to take advantage of the intrusive and burdensome nature of these digital interfaces and audio notifications. There's still a slickness and inherent modernity to our motion graphics, but I think it's consciously appropriate. The film isn't about techno-paranoia or digital dystopia; instead the bigger issues are human/male insecurity and a lack of open, in-person communication. The devices just happen to exacerbate the situation as part of everyday life. From a practical perspective, it was also an experiment to see if the graphics would play well monochromatically. Thankfully, I think it's another element of the film that affirms our decision to go with black & white. A big shout-out as well, to our motion graphics artist, Jake Myers. He's not only talented and efficient in his execution but has a natural instinct for what looks good design-wise and compositionally. I edited the film, too, so getting to discuss graphics needs with Jake directly, then drop his work into the timeline myself, was very helpful.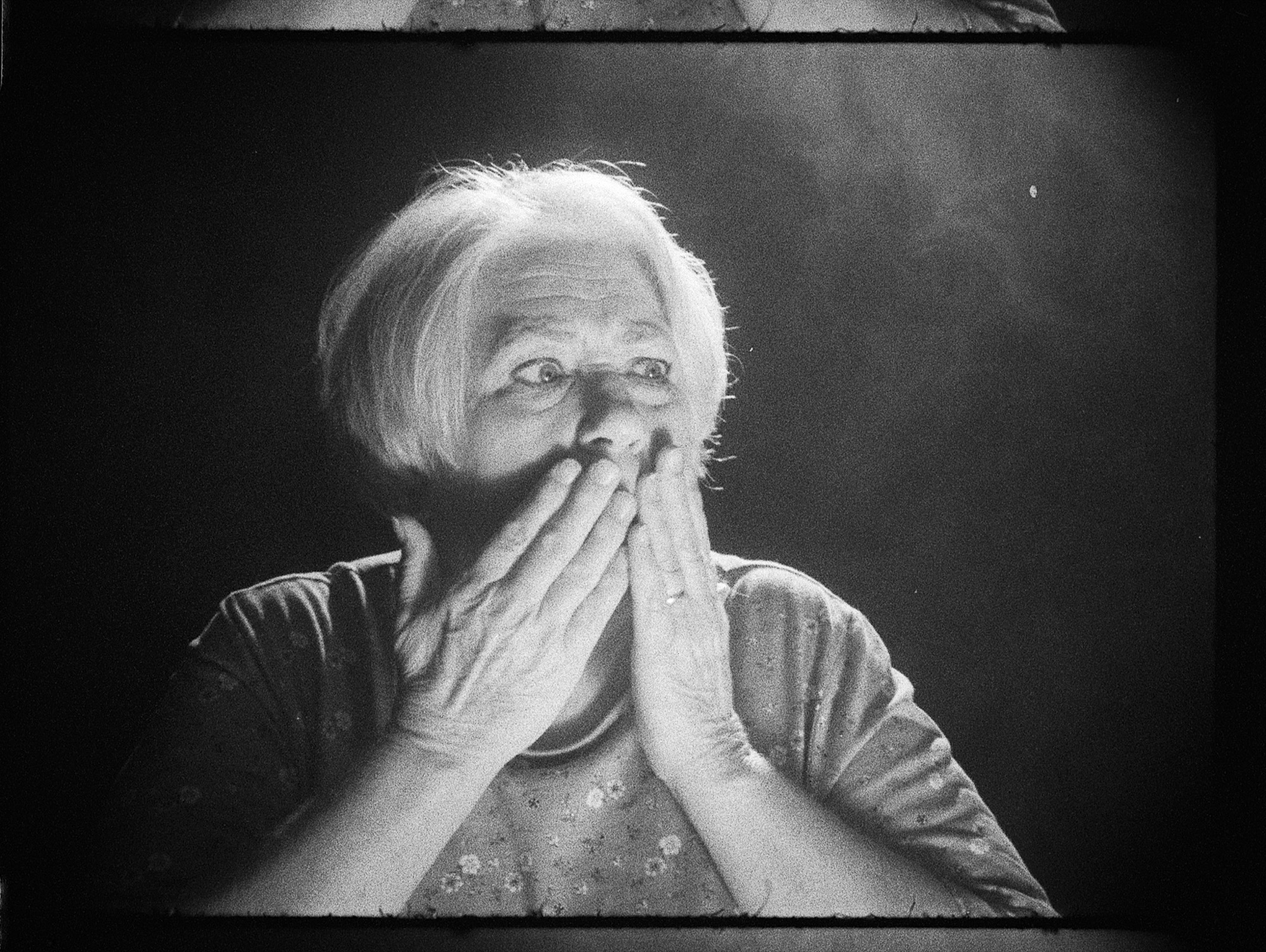 You have completed a steady and commendably successful festival run, again without giving too much away, how have audiences reacted and what feedback have you had?
Haha, well I was called a "sick fuck" on two separate occasions. But, thankfully, it was from two satisfied viewers. In a similar fashion, reporting on its West Coast premiere at HollyShorts, Unseen Films said I should, "be put away where [I] can't hurt [myself] or audiences." Jokes aside, I particularly appreciate the written praise for how the actors and I approached the story's erotic elements. As I've said elsewhere, we were very purposeful with that stuff, so it's rewarding to have that be recognized.
It's a very provocative film and certainly not intended to be everyone's cup of tea.
Some of our awards include Best Midnight/WTF Short at GenreBlast and Best Short Narrative at Chicago Underground, as well as Best Horror Comedy at Flickers' Vortex and Outstanding Horror Screenplay at Film Invasion LA. We also have an average 3.5-star ranking on Letterboxd from 90-or-so user ratings. The user reviews are also largely positive, and folks have said some very nice things, often about how the film has stuck with them. At the same time, I also totally get the handful of not-so-positive Letterboxd reviews; it's a very provocative film and certainly not intended to be everyone's cup of tea. Case in point, I had palpable anxiety about showing it to my parents, but (ironically) my mom kept insisting! Regardless, I'm very touched and fortunate that it's been so widely embraced by an array of different audiences at genre fests, Oscar-qualifying fests, and elsewhere.
Where on earth are you going to go next in your work after Pretty Pickle?
I've been working on a neo-noir crime thriller series set in the Midwest, called Argus, about a disaffected private eye pursuing a murderous cyberstalker, whose nightmarish maze of digital and real-life deceptions point to the forgotten cold case of a missing teen. I co-created it with LeLe Park, and in 2021 it was the grand prize-winning project of the NewNarratives Program from NewFilmmakers LA and WarnerMedia OneFifty. Warner Bros. helped finance its initial development, and earlier this year we completed the proof-of-concept. The project has a first look with a different studio, but those conversations are currently on hold due to the ongoing (long overdue) industry strikes.
I have two features in development as well: a queer body horror called Waif, adapted from Samantha Kolesnik's book of the same name and a supernatural thriller, Homesick, concerning a murder mystery that straddles two eras, 1999 and 1979. Both scripts were Sundance Labs second-rounders and co-written with Shelley Gustavson. I'm also writing a new short that's a collaboration with actor/writer/video essayist, Maggie Mae Fish. Right now it feels a little responsive to society's ongoing obsession with true crime, but ultimately it's about the complex grief and isolation experienced by the surviving family members of two victims from two separate crimes. I'm aiming to shoot it on 16mm, in a small town in Michigan.